If you think you have to go for all those add-ons when flying low cost, you don't. Here's how to fly low cost without racking up all kinds of additional charges, from credit card fees to checked luggage.
When buying a cheap flight, all those little "extras" can really add up. Sometimes the cost of checking a bag is more than the flight itself! How crazy is that? Be a smart traveler and take our expert tips on board.
Baggage
Baggage is the easiest way for airlines to catch us out when it comes to additional fees. Low-cost airlines especially, love to slap us with a whopping fee when we reach the airport. In order to keep one step ahead of them, we have listed some sneaky ways to avoid those pesky charges.


Compare low-cost with regular airlines
The biggest and most common extra fee is the cost to check-in luggage. If you can, avoid it. But if you do need to travel with luggage in the hold, compare your budget flight (+ the cost of checking a bag) with that of a regular airline. It may be cheaper to fly with a regular one.
Travel light
Take carry-on ONLY and make sure your bag fits within the airline's size and weight restrictions or you'll be asked to pay more at the boarding gate.
Always pre-book bags
Of course packing lightly is the best option, but if you do need to take checked luggage be sure to pre-book your bags. Airlines charge extortionate prices to check in baggage at the airport, so be a smart traveler and book your luggage in advance.

Share your baggage allowance
A sneaky trick to avoid overweight baggage fees is to share your weight allowance with a travel partner. If your travel partner's luggage is underweight then they will be your saving grace when presented with your own overweight luggage. Pool together your allowance and this will get you out of paying extra fees. Note: you must check in together and be on the same booking. 
Pay by card
Unfortunately, some airlines charge you more to pay with a credit card. Funnily enough, this is one of the most popular methods of payment so many people are charged extra. Paypal is generally the most cost effective method of payment. As a general rule Paypal and debit carry lower charges, whereas credit cards carry the highest. When you book your cheap flight ticket with liligo.com you will find our 'more details' button helpful. We display a breakdown of your ticket so you know exactly what you are paying for, how much and what is included in the cost.
Check-in and booking online
Booking your tickets online and the check-in process can be stressful, and it can create a pressure point in which you are most likely to be caught out by an additional fee. Read our guide to ensure you are best preparing yourself against unwanted fees.

Don't forget your boarding pass
ALWAYS remember to check-in online and print your boarding passes. If you forget your boarding pass you will be charged an additional fee at the airport. Some airlines are making it easier by letting passengers go paperless with digital boarding passes integrated into their apps.
Pass on the additional services
Low-cost airlines usually sell their flight tickets at base cost, so don't expect anything for free – even a bottle of water. You will be presented with the option to opt in to plenty of additional services at the point of booking to make your flight more comfortable and enjoyable, however these pleasantries come at an extra cost. For domestic flights it could cost you as little as $9 for preferred seat selection, but when it comes to international flights you could be looking at $300 for a good seat position on the plane. If you're looking to avoid additional fees, do not opt in to additional services such as seat selection, extra leg-room, food and drink packages etc, because your flight ticket could soon cost more than you were expecting.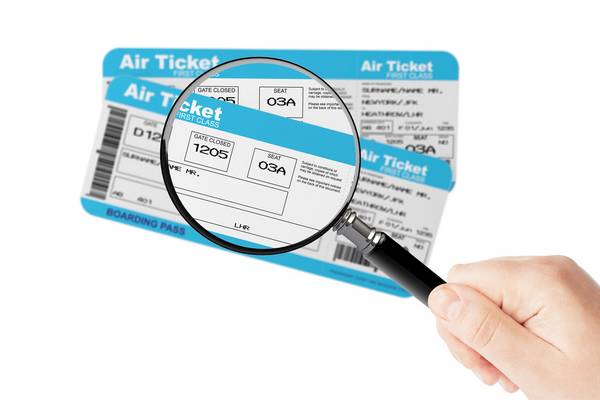 Check for typos
Some travelers get caught by making simple mistakes in the booking process. Before you confirm, always double check your travel dates and that the names on the tickets are spelled correctly. Our top tip? Arrive early to your boarding gate…then you won't need to dish out on speedy boarding.
Know your refund policy
Most airlines make changing your flight ticket virtually impossible by charging ridiculous prices to change the name or date. However, most people don't know that you have a 24 hour window after booking your ticket to get a full refund. You will have to go through the layers of customer service, but by US law they must give a refund. 
IMG: allenthepostman, frankieleon / Flickr cc.