In the mood for a vacation, but not for the time consuming process of looking up the same trip again and again in the hopes of finding the best price? We've got the solution! Save time and money by creating a fare alert on liligo.com, and we'll keep you updated on the best price for your trip. 
It's almost summer and a vacation is an increasingly tempting prospect: in your mind you're already sunning yourself on a tropical beach, or enjoying the cultural delights of a city break. Find the cheapest way to travel with liligo.com – create a fare alert and you'll never miss a deal, leaving you with more cash to enjoy that well-earned time away.
What is a fare alert? 
If you've chosen your dream destination and know when you want to go, all that's left to do is find the best price for your trip. With prices changing on a regular basis, the best way to keep up to date on the latest offers and grab the best deal is to create a fare alert on liligo.com. 
Sick of checking every few hours whether the price for your trip has changed? With our fare alert, all you need to do is let us know the dates and route for your trip. Then it's time to sit back, relax and let us do all the work! We'll keep you updated on prices for your route, so there's no worry of missing out on a great deal.  
You can choose how often you want to receive updates on your trip and can even define the price range for the alert.
How do I create a fare alert? 
Creating a fare alert couldn't be easier. You can either visit our dedicated fare alert page, or create it once you've searched for your trip.  
1. Head to our dedicated fare alert page: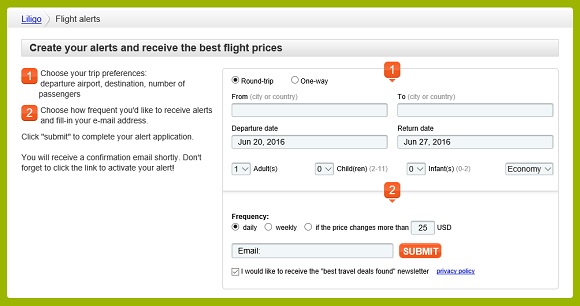 From here, you'll need to fill out two sections:
The details of your journey: place of departure, destination, travel dates, number of passengers and your preferred travel class (economy, business, first…)
How often you'd like to receive fare alerts by email: once a day, once a week, or every time the prices change by a set number of dollars.
2. Create a fare alert from a search:
Once you've searched for your trip on liligo.com, you can also create a fare alert directly from the results page: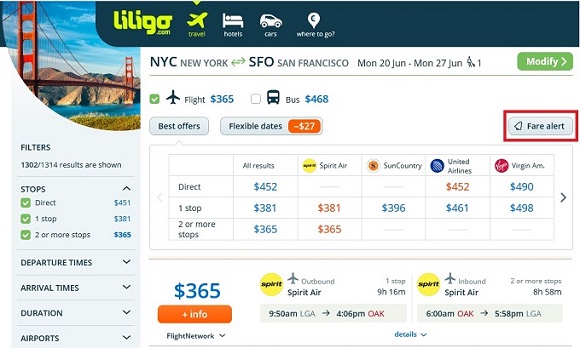 Simply click on the button titled 'fare alert' and from here enter your email address and select how often you'd like to receive updates.
Once you're subscribed, you'll receive a confirmation email. After that, you'll get fare alerts straight to your inbox – such as the one below: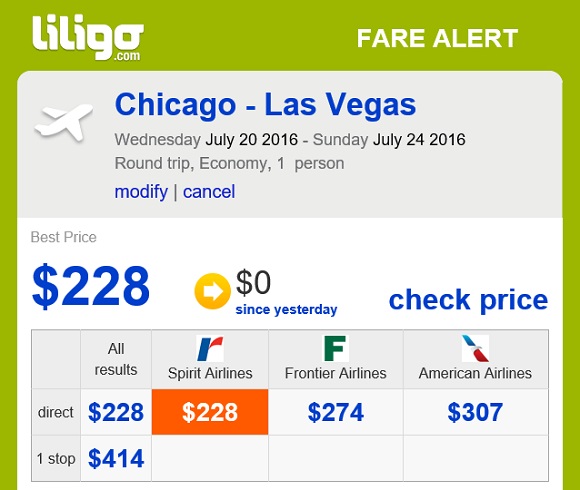 As you can see, the alert shows useful information such as the evolution of flight prices and which companies are offering the best deals at the moment.
If you click on the route and price, the alert will take you straight to our website where you can check a complete list of the available offers that day. You can also view all the important info about the journey by clicking on 'details'.
If you've found the fare you want, you'll be directed to the company or airline from whom you can then buy the tickets. All that's left then is to go!
How can I manage my fare alert?
Nothing is forever, not even fare alerts. If you want to modify your criteria or cancel your alert, you can do this in two ways:
1. Via the confirmation email
If you've changed your mind or entered the wrong information into your fare alert, there's an easy way to fix this. In the confirmation email you received when you signed up, there is the option to change or cancel your fare alert.
Click on "manage my fare alerts". You will then be redirected to our site, where you can change all of your alerts as you wish.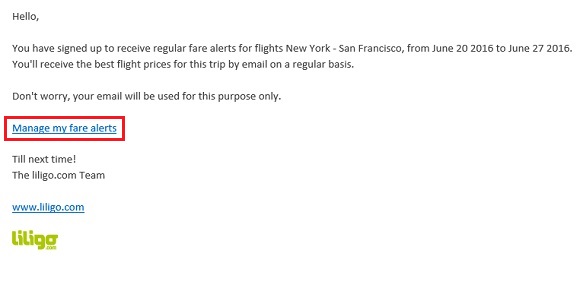 If you click on edit, you can enter new search criteria. However, if you want to cancel the alert simply click cancel.
2. Via the fare alert itself
If you are already receiving alerts and have decided that you want to try other dates or a different destination, just click on edit. You will be directed to the same screen, where you can change your preferences. The same goes for if you no longer want the route or if you've already booked your tickets: just click cancel.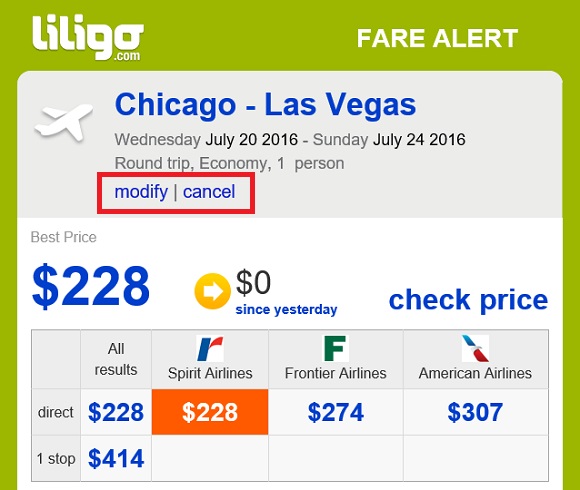 And if you have any questions …
If you have any problems, don't hesitate to get in touch! Send your questions to [email protected] and we will get back to you as quickly as possible.