January 20 is Penguin Awareness Day, and as the species are coming under threat due to climate change, the species future is now more uncertain than ever. If you're a fan of these cute little creatures that are always dressed to the nines, then you might want to plan travel to see them now before it becomes increasingly difficult to see them in their natural habitat.
From Australia to the Antarctica we reveal the best travel destinations to see penguins in the wild, awkwardly waddling free.
Australia
Penneshaw, on South Australia's Kangaroo Island, is a great place to see these little guys in action. The Little Penguins (Eudyptula Minor) are the smallest of all the world's penguin species and can only be seen on land during night time. Kangaroo Island offers nightly tours by torchlight and is preceded by an entertaining and educational aquarium tour and if the weather permits, a laser guided talk through the southern constellations (tours will not be conducted from Feb 1 to Feb 28th/29th).
What's great about seeing Penguins at Kangaroo Island is you will also get to experience an impressive selection of other animals: kangaroos, wallabies, rare glossy black cockatoos and echidnas.
South Africa
Boulder's Beach in Simon's town may offer the most interesting penguin experience. This beach and its safe sandy shores are home to a breeding colony of over 2000 tuxedoed little birds, also known as the endangered African Penguins. You can stroll on the pristine sand and freely explore the 540 million year old granite boulders in the close proximity to the beautiful birds. There's a dedicated walkway that will guide you to their nesting and breeding sites, to get an intimate view of their home and lifestyle. If you're looking for a close-up casual experience with penguins book a flight to South Africa.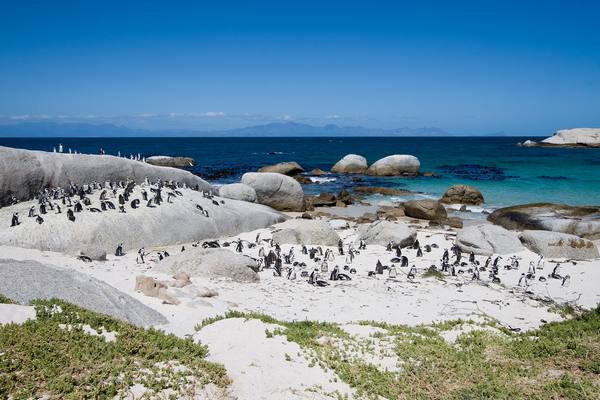 Argentina
There are plenty of tour operators in Ushuaia which offer day cruises to view penguins and other marine life. But if you want to walk among the penguins then only one operator, PiraTour, will be sufficient.
Piratours will take you to Martillo Island to walk among Gentoo and Magellanics penguins; you will be accompanied by a guide and walk through authorized trails and experience a unique adventure.

Just for fun …
Listen to Benedict Cumberbatch struggle with the word penguin …