Traveling with a new airline can bring on a whole load of questions, especially around baggage allowance. But don't worry, liligo.com will give you the low down on what you need to know in order to have a fee free vacation.
Book your cheap flight with United Airlines through liligo.com travel search engine.
Carry-on baggage
Each traveler can bring one carry-on bag plus one personal item on board free of charge. You must make sure these items are within the required measurements so they fit nicely within the overhead bin or under your seat. Your personal item shouldn't exceed more than 9 x 10 x 17 inches and your carry-on bag shouldn't exceed 22 x 14 x 9 inches (including handles and wheels).
If your baggage exceeds these measurements your items will be checked to your final destination and chargers will apply.
In addition to your one bag and one personal item you are allowed to bring the following items on board: Jacket or umbrella, reading material, food or merchandise purchased in the airport, assistive devices, FAA-approved child restraint system or safety seat, diaper bag, breast pump and pet carrier (service charges apply for in-cabin pets).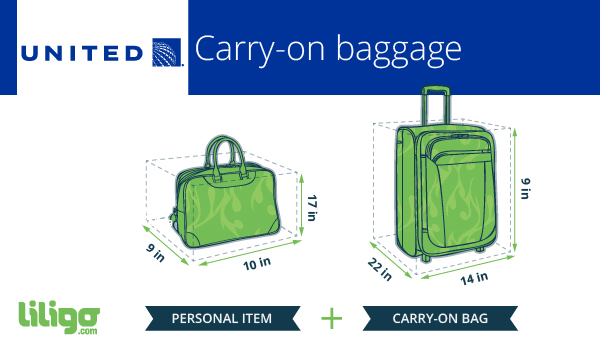 Checked bags
The maximum exterior dimension (length + width + height) of standard checked baggage is 62 inches (including handles and wheels). The maximum weight for a checked bag is based on the class of service and on the traveler's loyalty program. The maximum weight per bag for United Economy is 50 lbs, and for United Business, United BusinessFirst, United First and United Global First is 70lbs.
Depending on your route you will get between 0-3 bags checked for free. If you're flying domestic your first checked bag will be $25, and your second checked bag will be $35. For Europe your first checked bag will be free, and the second will cost $100. For Mexico your first checked bag will be $25 and second will be $40.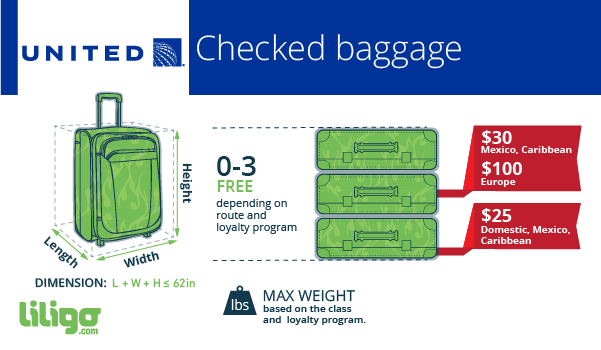 Find luggage information for other airlines: