This year will mark Argentina's bicentennial celebrations of its declaration of independence on July 9, 1816. The country will be dressed in cyan and white whilst festivals and parades take place in the capital, Buenos Aires.
July would be the perfect time to book a flight to Buenos Aires if you want to witness Argentinean pride in full swing. To mark the occasion visitors will be able to get an authentic taste of Argentina by sampling a number of traditional dishes from vendors, including dulce de leche and carne asado.
Buenos Aires will be at the center of the patriotic celebrations and although it has a reputation as the Paris of Latin America, the city is reasonably priced and a good value destination.
To top it off, some of the best things to do in Buenos Aires are free. Check out some of our favorite things to do in Argentina's capital.
Papal tour
Pope Francis is a big source of pride for Buenos Aires natives, he was born in the city and it's the place where he started his educational and religious journey. On the one-and-a-half hour Flores Walking Tour you get an intimate insight into his childhood haunts: the street where he was born, his first schools and plazas where he played as a child (point of departure: Basílica San José de Flores, Av. Rivadavia 6950.)
You can also attend a free three-hour bus tour, Flores Circuit by bus, which allows visitors a glimpse into Pope Francis' humble character. Learn about his passion for San Lorenzo football club, his religious teachings and devotion to the poor and hear colorful stories about his life.
You will visit, Instituto Nuestra Señora de la Misericordia, the Escuela de Jornada Simple N°8 D.E.11 "Cnel.Ing.Pedro Antonio Cerviño" and the E.N.E.T. N°27 "Hipólito Yrigoyen" where he studied, the Vicaría de Flores where he was ordained as bishop in 1992, the Cárcel de Devoto prison where he worked, and the Seminario Metropolitano de Buenos Aires where he decided to become a Jesuit.
Places on both tours are limited; you need to register for the tour.
San Telmo flea market
There's only one place to be on a Sunday in Buenos Aires and that's the flea market at Plaza Dorrego in the barrio of San Telmo. Between 10am and 5pm, the unmissable weekly event attracts tourists and locals alike. The open-air antique market opened in 1970 and is now accompanied by a covered market nearby. Browse street food vendors, organic produce, book sellers, beer stands and everything in between. The highlight of the market is the tango demonstration performed by young and old dancers.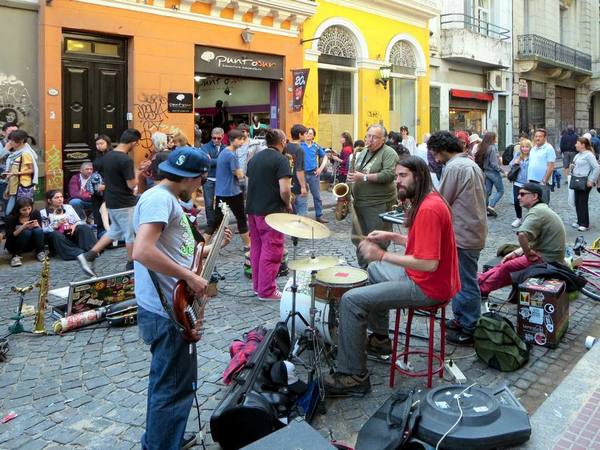 Museo Nacional de Bellas Artes
It is rare to find free English tours of art museums, but luckily for you this free tour of Museo Nacional de Bellas Artes is a juicy little bonus.
It's a free one hour guided tour which provides a detailed introduction to the museum's permanent collection and also touches upon the history of the museum itself. Discover how the work found themselves in the collection and explore their cultural significance in Argentina.
The tours are on offer four days a week, with extremely knowledgeable and engaging guides. We would advise you to check times and opening dates before dropping by.