When it comes to travel, practical concerns such as time and money can make a real difference to your trip. We asked travel expert Johnny Jet to share a few of his top tips to save both while on the road and take it from us – this is some advice you'll want to know!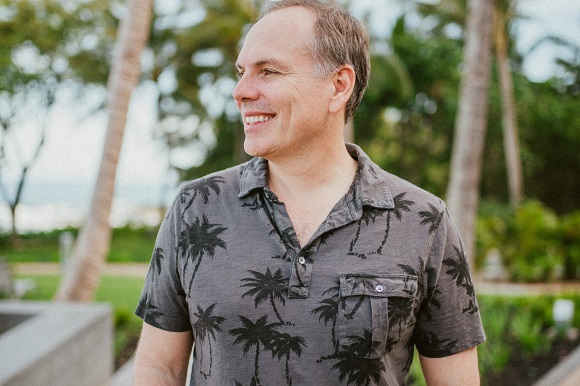 Johnny – Johnny Jet
Travel expert Johnny shares his expertise, including tips on how to gain air miles and travel for less, on his website Johnny Jet. From destination inspiration to travel advice and current news, it's all there. Over the next few weeks, he'll be writing a number of guest posts for liligo.com.
Check out his posts so far:
> Destination Spotlight: Manhattan Beach
---
"I've been traveling professionally for over two decades and I've learned a lot along the way. I now know how to save money, and more importantly, time when traveling. Here are my top 10 tips for both!
1. Take the first flight out of the day
If you don't want to risk losing a lot of time, then take the first flight out in the morning. Why? Because the first flight is least likely to be delayed or canceled since the plane most likely spent the night at the airport so you don't need to worry about it coming in late. I took the last flight out recently and after a couple of long delays, it ended up getting canceled altogether so I had to spend the night in an airport hotel. It was not fun and I lost almost 18 hours. An added bonus is that usually, early morning flights are cheaper, too.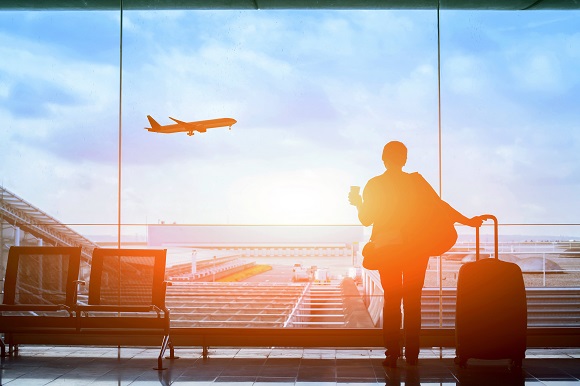 2. Travel with carry-on only
If you want to save money and time, then pack light. It took me a year to figure this out but after really analyzing what I bring and actually wear, I realized that I could get by with just enough clothes that would fit in a carry-on suitcase … even if I was going on a multi-week trip around the world. The secret is to wear the heavy and bulky clothes on the plane and just bring enough underwear and socks for a week. Then you can wash your clothes at a laundromat or wash them yourself in the hotel bathtub if you need to (bring some little packets of detergent with you). By carrying on, not only do you save on baggage fees, but you can easily take public transportation, which is a lot cheaper than taxis and you don't have to sit in traffic.
3. Get a jacket with multiple pockets
I started wearing a jacket with over 20 pockets after one of my writers was mugged in Barcelona. She and her husband lost all of their valuables including their passports but if they had had them in one of their hidden jacket pockets, they would have only lost their luggage that day. Not only do I use it for hiding valuables but it essentially serves as a third carry-on, which makes traveling with carry-on only luggage that much easier.
4. Turn down bellman and porter service
Seasoned travelers know to kindly turn down bellmen and porters but first time travelers don't. Some bellmen and porters are aggressive and make you think you need to use their services. Unless you need help, then just say 'no' because airport porters charge around $10 and hotel bellmen usually get $2 a bag. The money isn't the problem. The problem is that hotel bellmen sometimes take up to 30 minutes to deliver your bags and that's a lot of time just pacing around the room, waiting to get your laptop if you need to do work or your bathing suit if you want to hit the beach!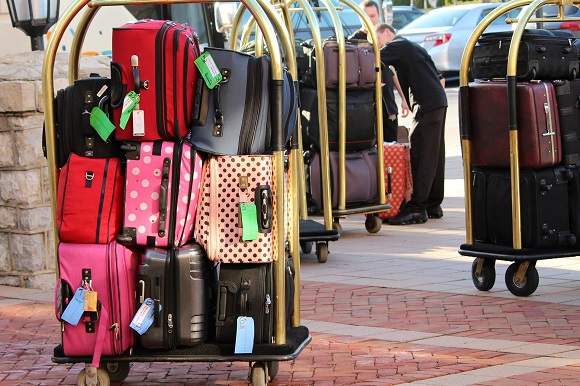 5. Call your bank and credit card company
I highly recommend that travelers who are going outside the country call their bank and credit card companies before they leave. Tell them where you are going and the dates you'll be traveling so the bank doesn't put a block on your cards when they see "suspicious activity." Also ask your bank if they have any international partners so when you withdraw cash at an overseas ATM, you won't get dinged with an extra fee, which is usually $5.
6. Carry multiple credit cards
Speaking of credit cards, make sure you bring multiple credit cards just in case one of them gets flagged for fraudulent activity. Another reason you want multiple cards is because some vendors might not accept American Express or Visa. That's why I carry both with me, as well as a MasterCard. No matter what, all of my credit cards offer no foreign transaction fees so I save the 3% that other companies would charge.
7. Use a chip and pin card
Surprisingly, the U.S. has been slow to adopt the chip but now most credit cards offer it after all of the hacking and fraud. However, most U.S. credit card companies only have chip and signature, which means there has to be someone to process your card so you can sign it. What you really want when traveling internationally is a chip with PIN capability. I've learned the hard way the difference when I went to an unmanned kiosk in a train station and tried to buy a ticket for the next train. I was denied so I had to wait in a long line for the to get the teller to process my ticket. Fortunately, there was another train not long after but I could have been seriously inconvenienced.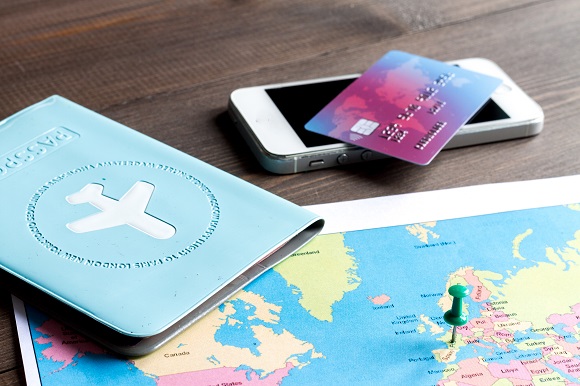 8. Always pay in local currency
One of my biggest pet peeves is when I see stores try and sucker me or other international travelers. It happens a lot in Europe when tellers ask if you would like to pay in U.S. dollars or local currency? Novice travelers would think. U.S. dollars would be the best way to go but it's not. The reason they do this is because the stores charge a much higher transaction fee than your bank would back home. So if you want to save money, pay in local currency.
9. Download the SignEasy app
If you're traveling and you receive a document that requires your signature, don't fret. Instead of going to the hotel's business center or the FedEx office story to print, sign and scan the document, just download the SignEasy app. I use it all the time and I can sign a legal document and return it within minutes instead of hours. It not only saves time and money but paper.
10. Don't pay for a luggage cart
Unlike the rest of the world, most U.S. airports charge to use a luggage cart and it's not cheap. In Los Angeles, for example, it's $5. Whenever I see a traveler going to put their credit card in the machine to get one, I tell them to just go outside of Arrivals where they can find plenty, especially by the taxi stands or in the parking garage.
IMG: Pixabay & Shutterstock