In his third and final guest post for liligo.com, Thrillist's Miami Editor Matt Meltzer takes a look at why we should all be headed for Montreal this winter!

Check out Matt Meltzer's previous guest posts for liligo.com:
> World Record Road Trip Couple: How to Travel With Your SO Without Killing Each Other"
> 18 Things People Need To Stop Doing When They Fly
At first glance, the thought of going to Montreal in the dead of winter might seem kind of like an August trip to Calcutta. Intriguing destination, but maybe wait until the weather is hospitable before going. But Montreal's not all polar vortex and frostbite this time of year. Delve a little deeper, and you'll see why this is one of the best cities in North America to hit for winter sports.
No, they don't have the alpine adventures of Colorado or Utah. But what Montreal lacks in mountains it makes up for in exciting, challenging, and oftentimes beautiful ways to have an active vacation. And as part of the city's 375th anniversary celebration, they're cuing up some fantastic winter sports events, from canoeing through ice to tossing Christmas trees.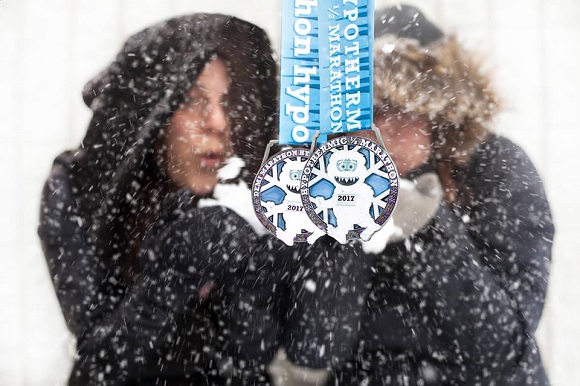 1. Run a half-marathon in the freezing cold
Since apparently signups for the acute asphyxiation Ironman and pulmonary embolism 5k were a little disappointing, Montreal welcomes the Hypothermic Half Marathon where runners brave seriously sub-arctic temperatures to complete a 13.1 mile course through the city. For runners who are used to temperate climates, it's an exciting new challenge to see how your body reacts. And if the only training method you can think of is setting up a treadmill in a walk-in freezer, organizers offer training and safety tips on the race website.
2. Bike through the streets by moonlight
Though typically riding your bike at night in the freezing cold sounds about as fun as swallowing nails, Velo Quebec is turning it into a magical, moonlit party. The organization is celebrating its 50th anniversary with Snow Moon by Bike, a 3.75km ride through the streets of Montreal, coinciding with a full moon. The result will be a pack of cyclists rolling through the city by moonlight, a truly unique way to learn about the city in its coldest months.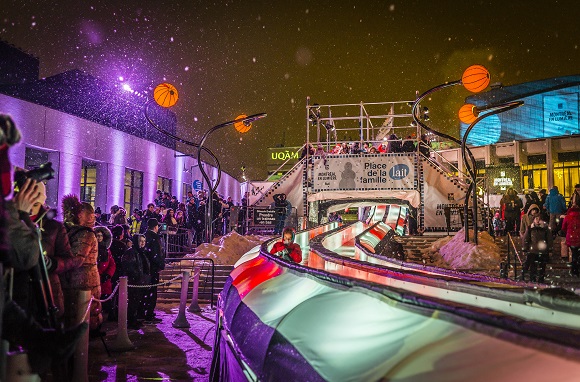 3. Curl through a sea of lights
Though curling is often the Olympic-time punchline to obscure sports – called by the less-informed "shuffleboard on ice" – it is actually an incredibly intricate event that takes years master. Wanna see for yourself? From February 23 to March 11, the Place de Festivals will host Montreal en Lumiere, where anyone can try curling against a backdrop of light shows, artwork, and pulsing music. And just to add to the pressure, animators will be onsite offering up play-by-play commentary.
4. Zipline through a park
The king (or "Roi" as they say in Montreal) of the city's free winter events is Fete de Neiges de Montreal, where parc Jean-Drapeau transforms into a winter activity wonderland. Here you can zipline over the frozen tundra or get a tour of the park from a team of sled dogs (they don't talk, they just pull the sled). There's also ice skating, tubing down hills, and pretty much everything else you couldn't justify doing anymore after you turned 12.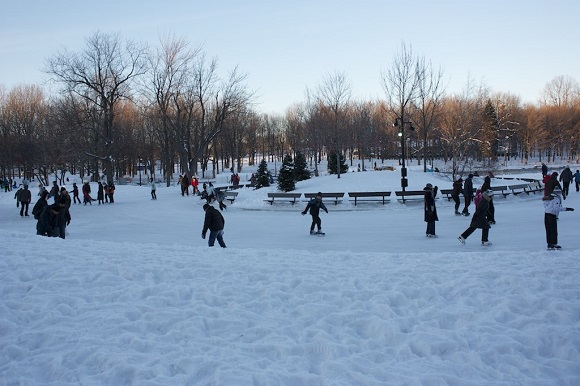 5. Ski, skate and shoe
Even if you're not into any of the organized events, a winter trip to Montreal isn't really worth making if you don't get out into the snow. Guided snowshoe tours up Mount Royal can yield some spectacular views of the city on clear afternoons. Mount Royal is also home to miles of cross-country ski trails that give a fantastic workout in addition to natural scenery. And the city has over 150 public skating rinks, if you bring your blades and want to try them out.
6. Watch canoes race through ice
The culture of the Quebecois can be a little confusing to those not raised in the bitter cold. For example, while "canoeing through icefields" sound might like a simile for using the absolute worst tool for a difficult project, there's an entire race CIRCUIT of it in Quebec. The NASCAR of ice-bound canoe racing comes to Montreal the 11th and 12th of February, when the north's greatest ice canoers take their talents to the St. Lawrence River.
7. Play hockey for borough pride
Even though Canada hasn't won a Stanley Cup since Clinton's first term, when it comes to universal hockey skill nobody does it better than Canadians. Want to try and prove otherwise? Gather a group of buddies and register for the Classique Montrealaise, where teams from different boroughs of the city play pond hockey without goalies for nothing more than neighborhood pride and an hour of ice time at the Bell Center. You can register in the competitive, friendly, female or 50+ division, and see how you stack up against people who boast hockey as their national sport.
8. Climb through frozen obstacles
You might think a tough-mudder-style race would be a lot more tolerable without all the, ya know, mud. But when you're trading it for extreme cold, maybe not. The Polar Hero race lets you test your toughness along a 10km course through 50 (you read that right, FIFTY) obstacles, including walls, cargo nets, and pretty much anything designed to slow you down. For the hardcore, enter the Unlimited division, where you compete for prizes to see who can complete the most laps.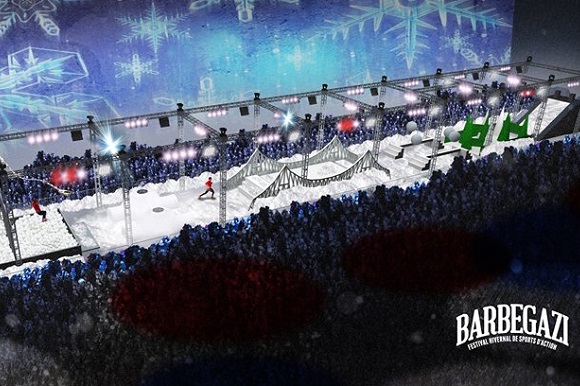 9. Race soapbox cars down Saint-Denis Street
Nothing makes you part of a city more than racing a homemade motorless car down one of its busiest streets and hopefully not crashing into any of the obstacles. The 280-meter La Descente Saint Denis will test the creativity, performance, and speed of the cars. Of course, it's not just a straight-up race for time, that would be a little too straightforward for Montreal. Instead it's a judged competition of all three categories, so you don't just need to bring a fast car. You need to bring a cool-looking one too.
10. Toss Christmas trees, competitively
It's not quite Canadian Ninja Warrior, but the obstacle course that'll be at this year's Barbegazi festival makes up for what it lacks in salmon ladders with extreme cold. The course is the centerpiece of the two-weekend festival on January 6-8 and 13-15, and allows participants to compete in open fatbike and snowskate competitions as well as try their hand at the epic obstacle course. And for the hearty, old-school salty types there are also wood chopping, arm wrestling, and Christmas tree tossing competitions.
Save
Save
Save
Save
Save