The travel price comparison site liligo.com has analyzed the US travel trends in 2017. Which destinations were most popular with liligo users and how have these trends evolved from 2016?
The liligo search engine allows its users to find the best deals for their flights. Our team of data specialists analyzed nearly 4 million searches carried out by our users to bring you the top destinations of the past year. Where did liligo's US users most like to travel and how did these trends evolve from 2016?
The top destinations in 2017
Our users like it hot! That's one conclusion from our top destinations for 2017: seven of our top ten destinations feature a pleasant climate even in winter. Especially Florida is represented strongly, with three destinations in the Top 10 (down from four in 2016). Though of course our front-runner Las Vegas attracts visitors with much more than just desert sunshine! The only non-US destination to make the list is Paris, which shot up into the Top 10 last year. The city of love has long topped lists of the most visited cities in the world.
Though down from the 8th spot in 2016, the strong showing of the Puerto Rican capital San Juan might come as something of a surprise. In addition to Puerto Ricans returning home for a vacation, tourist numbers have been growing steadily on the island in the past years. It remains to be seen how strong an impact the devastation of Hurricane Maria will have on tourism – we certainly hope it will be up there in our 2018 ranking, as well!
Best-value destinations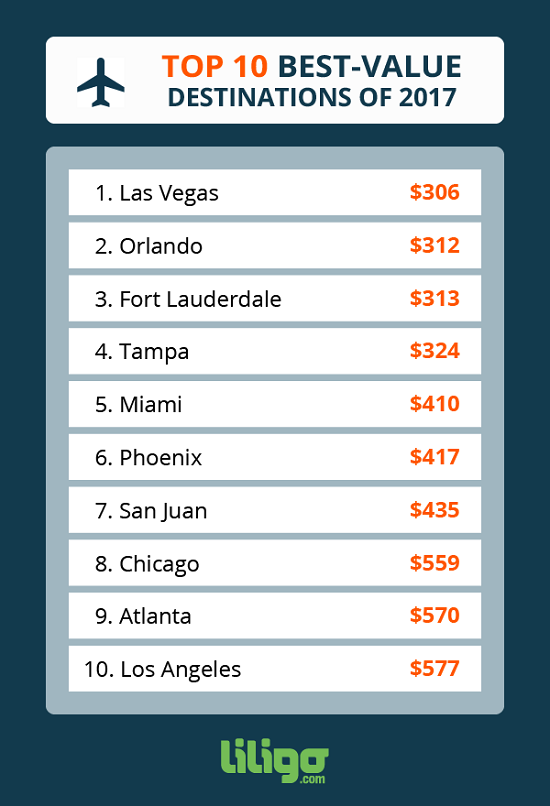 The liligo.com study not only ranked the most popular cities, but also analyzed the average return airfare for each destination. Florida comes off well in this ranking, too. On average, $312 will get you a return ticket to Orlando, significantly less than to other large cities such as Atlanta, Los Angeles or New York. In general, the Sunshine State is a good bet for an inexpensive vacation: four of the Top 5 destinations are in Florida. However, they were all eclipsed by Las Vegas, which takes the top spot not just in terms of total searches, but also considering price. An average return fare will set you back just $306.
Trip duration
Another interesting aspect that emerges from the study is the average duration of trips booked through liligo.com. The average trip length of all searches on the site in 2017 was just above 10 days. Interestingly, our top destination Las Vegas was at the bottom of this curve with an average trip duration of little more than 5 days – perhaps visitors aim to limit their losses in the casinos of "Sin City."
Unsurprisingly, the longest trips are taken to international destinations such as Manila (19.5 days) or Paris (16 days). But even trips to New York City have a surprisingly long duration of almost 15 days on average. Though to be fair, you could probably spend months in the Big Apple and do something new every day – have a look at our guide to 6 hidden gems in New York for some inspiration.