Are you planning to travel with Ryanair for your next vacation? Sometimes luggage rules and policies can be confusing, resulting in an unexpected fine at the airport. This is especially common with low-cost airlines.
Our guide provides an overview of the most important dimensions and weights which will help you avoid Ryanair's high penalties. Make sure you never get tricked into paying additional luggage fees again!
Permitted dimensions for carry-on baggage
Ryanair allows each passenger to carry two pieces of baggage onto the plane:
One small bag, such as a handbag or a shoulder bag, with the following maximum dimensions: 35 cm x 20 cm x 20 cm (approx. 13.5 in x 8 in x 8 in)
One cabin bag weighing no more than 10 kg (approx. 22 lb) and not larger than 55 cm x 40 cm x 20 cm (approx. 21.5 in x 16 in x 8 in)
From January 15, 2018, only customers with tickets that fall into following categories can bring both bags into the cabin: Priority & 2 Cabin Bags, Flexi Plus, Plus or Family Plus. All other passengers will have their second bag put into the hold of the aircraft for free.
Gate staff will carry out spot checks of passengers' luggage. If your bag does not adhere to Ryanair's regulations you will be charged £50/€50 per person (approx. $60) for your bag to be placed in the hold.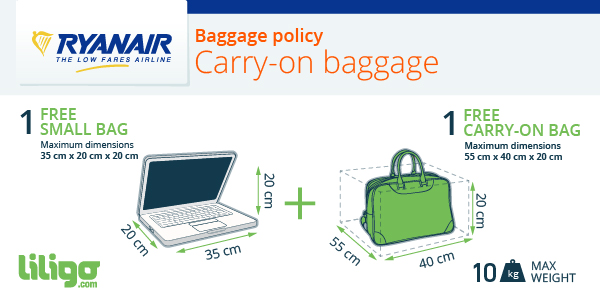 Fees for checked baggage
If you're flying with Ryanair as part of a bigger trip around Europe, you'll probably need to check in some bags. Ryanair allows up to 3 checked bags per passenger with a maximum weight of 20 kg each (approx. 44 lb). These cost £25/€25 (approx. $30) each if you purchase them during your initial booking. It's possible to add bags later, but you will have to pay an increased fee of £40/€40 (approx. $50) per bag. Note that you can pool your bags if you're flying on the same reservation with others and you checked in together.
If your luggage is overweight, you'll be charged with an excess baggage fee of £10/€10 per kilo (approx. $6 per pound). In addition, these checked luggage fees are liable to increase by £10/€10 (approx. $12) in peak travel seasons (i.e. Christmas, Easter and summer). For security reasons, no bag can weigh more than 32 kg (approx. 70 lb) or exceed these dimensions: 81 cm x 119 cm x 119 cm (approx. 32 in x 47 in x 47 in).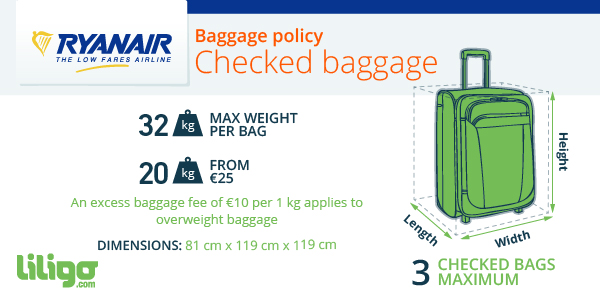 Find luggage information for other airlines:
IMG: 1Image / Bryan Brophy