At liligo, we are committed to providing you with the best possible experience, regardless of the size of your screen. Since we saw a few signs of old age in our iOS app, we decided it was time to make a change.
Planning a trip should always be fun. With this in mind we optimized our iOS application. New design and improved features, while maintaining the simplicity of use that you love – our app is fresher and more powerful than ever! Whether you are sitting comfortably on your couch or daydreaming in the office, finding the best deals has never been easier. In a few seconds, you can:
Look for flights from several hundred travel sites simultaneously – both travel agencies and airlines, incl. 70 low-cost airlines
Sort the offers with our smart filters
Book your flight directly on the merchant's website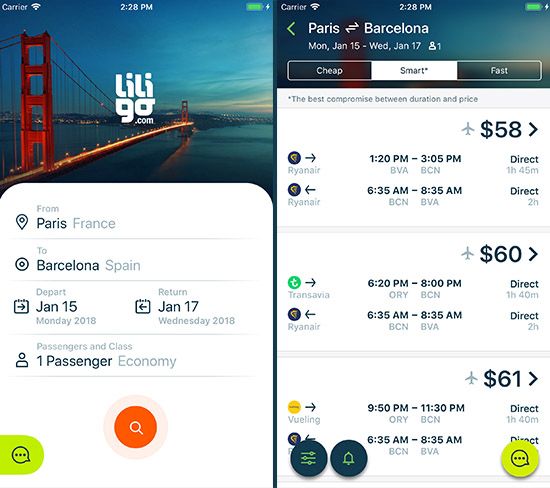 Small extras that make a difference
Never miss out on a great deal again! Use our price alerts to monitor the development of the ticket prices you are interested in. Is the price down? Bingo! We'll send you a notification to let you snatch the best price.
Are you prepared to travel for longer in return for a lower price? But you don't want to spend 36 hours on a stopover? We've developed an intelligent solution: smart sorting. With this feature, we calculate the best compromise between price and duration.
Finally, because we want to avoid any unpleasant surprises after redirecting you to the merchant's site, the prices we display are always all-inclusive: no hidden fees or additional taxes!
And that's not all!
The entire liligo team is working to improve this app and give you an even better user experience. In addition to flights, you will soon be able to compare hotels and and car rentals.
You will also see improvements in the coming months. So, are you ready to take us anywhere with you?