For many, the wonder of seeing some of the world's most beautiful sights is often accompanied by the desire to capture the moment on camera, or share it with others through social media. In today's technology saturated world, a new trend is gaining popularity: the digital detox.
Travel is full of awesome moments – that perfect sunrise which makes the 5am wakeup call totally worth it; a natural wonder which takes our breath away; a picture perfect view of a city skyline. However, a new movement is emerging – one which argues that, in our haste to perfectly compose the shot, narrate the experience on twitter or update our Snapchat stories we often miss the crucial, memory-making moment we came to see!
What?
Imagine a vacation totally technology free, and you've got the right idea. At first look it may seem daunting and, honestly, a little terrifying. But the reasoning behind it is simple. With more and more of us exhibiting signs of an addiction to technology, taking a digital detox can allow us to relax, switch off (our phones and our overactive minds) and to look beyond the glow of our cell phone screens.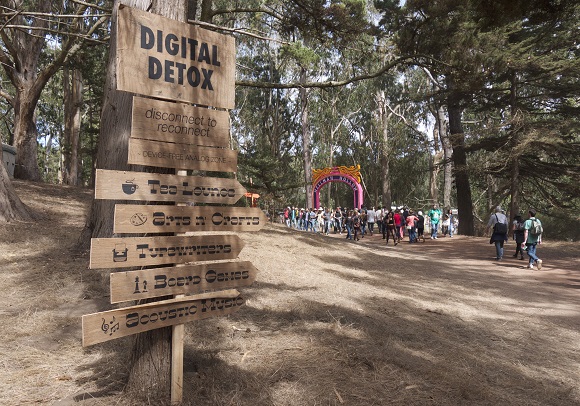 Where?
An increasing number of companies are now offering custom-made 'digital detox' trips, at the beginning of which you're asked to hand over your phone, camera, laptop and any other techy items you might have on you.
Group travel agency, Intrepid Travel, runs a number of dedicated tech-free tours with the aim of allowing travelers to unplug – participants sign a pledge before embarking on an 8 to 10 day adventure to destinations such as Ecuador and Thailand. The idea is that the lack of technology allows you to truly experience the moment, totally Wi-Fi free.
Taking it a step further is specialist travel company, Digital Detox. The name says it all, as this company runs a number of retreats across the US at which digital devices are taboo and visitors are encouraged to enjoy life away from a screen.
Design your own digital detox
Head for the great outdoors and enjoy a technology free camping trip. With a campfire, s'mores and the open sky above you the digital world will seem miles away.
For a taste of life off the grid head to Lancaster County. In Pennsylvania Amish Country, traffic takes the form of horse-drawn buggies, and separation from the modern world is key.
Book cheap flights to Cuba and experience the country's old-world charm – a Wi-Fi connection will be the last thing on your mind!
Digital detox destinations 
So, you're ready to ditch those digital distractions – but where should you travel?
Fly to exotic Thailand – the country's capital, Bangkok, offers great connections to a range of beautiful islands so you can head for the beach and enjoy the salt air, soft sand and total lack of wifi.
Visit one of North America's National Parks for the ultimate way to unplug. A day's exploring, seeing amazing wildlife and taking in all that natural beauty is the perfect antidote to technology.
Book cheap flights to Honolulu for a destination which offers so much to do you'll forget you even brought your cell phone!
Would you take a digital detox vacation? Could you survive a week without your cell phone?
IMG: Digital Detox, davitydave / Flickr cc and Shutterstock