Inspired by Emma Watson's performance in Beauty & the Beast to take your own magical adventure to an enchanted castle? We can't promise you won't find a Beast or two (but if they look anything like Dan Stevens once they've transformed we're sure you won't mind!) but these are some of the most gorgeous and magical castles around the world.
1. Neuschwanstein Castle – Germany
This magical spot is located in the southern region of Germany, called Bavaria. It was opened to the public in 1886, just seven weeks after the death of King Ludwig II. The king had built this monumental palace in order to hide away from public view but today it's one of Europe's most popular castle attractions. In the summer months, more than 6,000 people stream through the castle and grounds per day. If you want to avoid the crowds, we recommend booking your fights to Munich for spring or fall.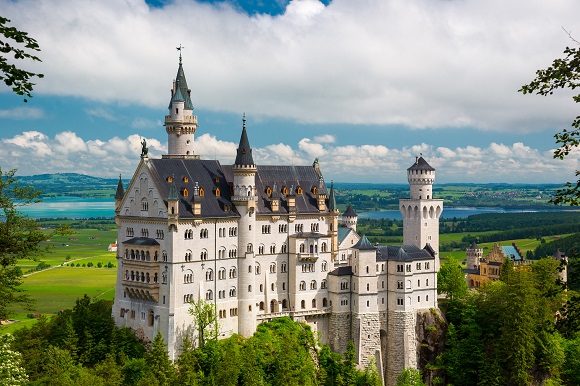 2. Burg Hochosterwitz – Austria
Claiming to be the inspiration for the castle in Sleeping Beauty, Burg Hochosterwitz is a stunning fortress on the top of a hill, which consists of 14 gate towers that were built between 1570 and 1586 to ward off invading Turks. Each tower has a different challenge to overcome, including spikes that could be dropped on invaders who dared to pass underneath.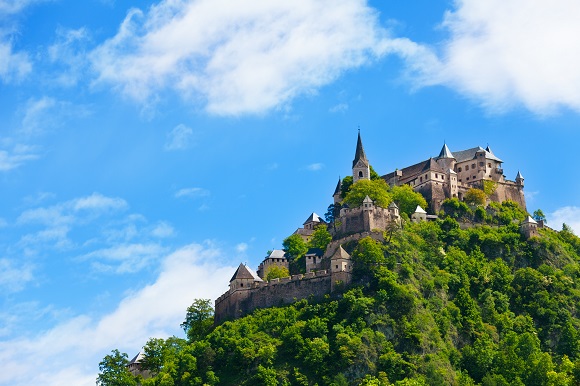 3. Château de Chillon – Switzerland
Walk from the Montreux waterfront along the beautiful Chemin Fleuri, a paved promenade that is lined with flowers bursting in color during the summer months, and you'll soon happen upon Château de Chillon, a hulk of a fortress that overlooks Lake Geneva. This 13th-century castle is a maze of halls, courtyards and towers that are filled with artwork, furniture and weapons from the Middle Ages. The Gothic dungeons are spooky but should not be missed!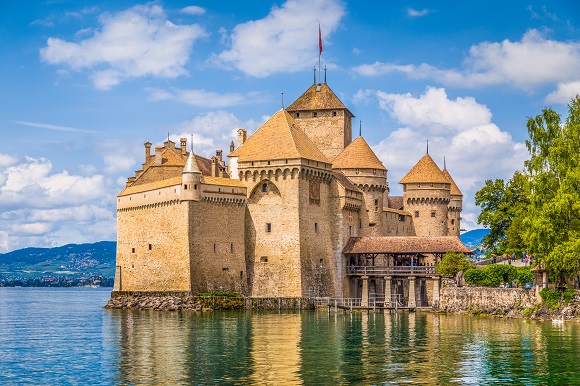 4. Windsor Castle – England
Windsor Castle is in fact the oldest and largest occupied castle in the world and is Queen Elizabeth II's official residence. The castle's history dates back almost 1,000 years and is filled with interesting stories of the kings and queens that have called this place home. Windsor Castle is set on an estate that covers 13 acres and features some magnificent State Apartments, all furnished with treasures from the Royal Collection; St. George's Chapel, an elegant spot where 10 monarchs are buried; Queen Mary's Dolls House; and The Drawings Gallery.
5. Catherine Palace – Russia
Construction on this palace started in 1717 and was built for Catherine I of Russia. Most of the palace's rooms, and its exterior, have been meticulously restored. Highlights include the Great Hall, Cavalier's baroque Dining Room, the Green Pilaster Rooms and the famous Amber Room, which features panels that were a gift from Peter the Great. Visitors can tour the palace between 12pm – 2pm and 4pm – 4:45pm, so make sure you plan your day accordingly. The audio-guide is definitely worthwhile to fill you in on the background and history of the items in each room.
6. Château de Chambord – France
This gorgeous palace was build for François I in 1519, in the lowlands of the Sologne region. The forest nearby was a popular place to hunt wild boar. The young king only ever stayed here for a few weeks, but instead used it as a place to entertain and welcome monarchs and ambassadors visiting from elsewhere in Europe. Château de Chambord is one of the few castles from that age that has escaped any major changes to its original design and all we can say is it's a stunner! It's a 2-hour trip with a rental car from Paris.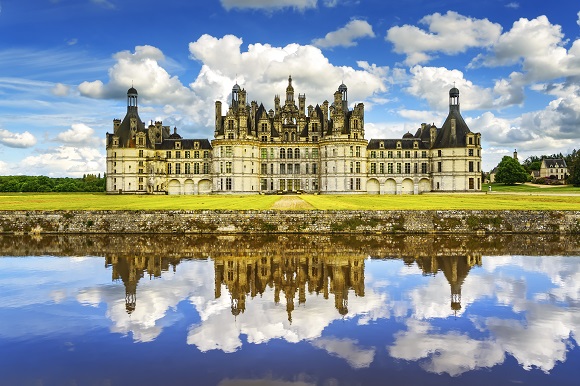 7. Kilkenny Castle – Ireland
Kilkenny Castle was built in the 12th-century by William Marshal, the 1st Earl of Pembroke, in order to control a shallow part of the River Nore where intruders could easily cross. Today, it's one of Ireland's most popular tourist attractions. In the winter months, visits are by guided tour only but from February to October, you can lead yourself around the castle.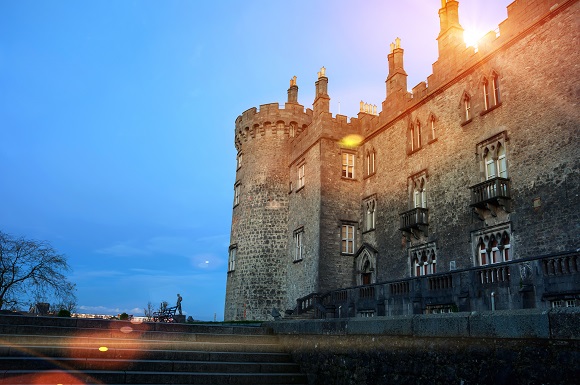 8. Prague Castle – Czech Republic
There are few castles of such epic proportions as Prague Castle. Construction began in the 9th-century and measures 1,870 feet long and 426 feet across, covering an area equivalent to 7 football fields! Inside the castle walls is a fascinating collection of historic houses and buildings that today house museums and galleries. There are two types of entry tickets (each is valid for two days as it's impossible to see it all in one visit) that allows you to visit a combination of different sights within the grounds.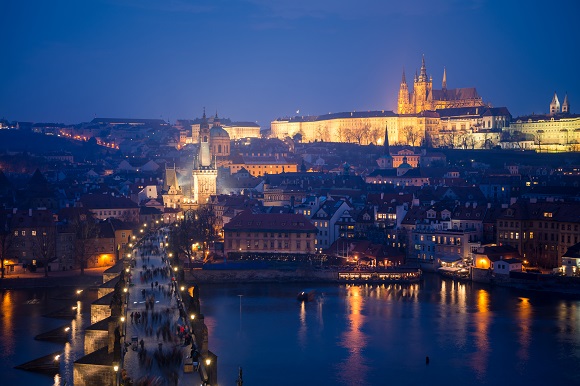 9. Mont Saint Michel – France
This rocky island, only reachable in low tide, off the coast of Normandy in France is only home to a dozen or so people but attracts more than 3 million visitors every year to its UNESCO World Heritage Site. The narrow alleyways transport you back to the Middle Ages; the whole atmosphere is simply magical. The tides in this bay are known to be unpredictable and can cut visitors off from the mainland without notice! We can think of far worse places to be stranded though, while you wait for the tide to roll out again.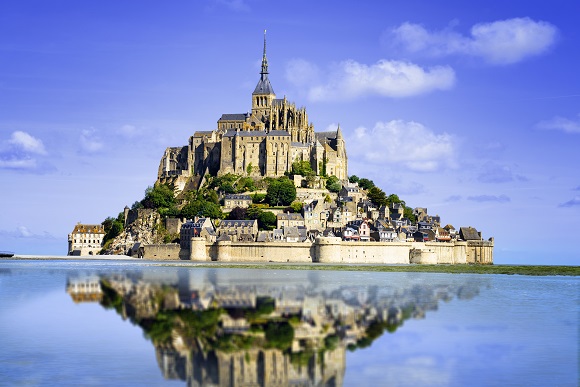 10. Alcázar de Segovia – Spain
This palace in Spain is an impressive stone fortification located in Segovia's Old Town. It rises dramatically out of a rocky crag and below the Eresma and Clamores rivers meet. Just off in the distance are the gorgeous Guadarrama Mountains. This is one of the most iconic castles in Spain and while it was originally built as a fortress, it has also been used as a royal palace, a state prison and a military college. Does it look a little familiar? Walt Disney modelled Cinderella's Castle after it.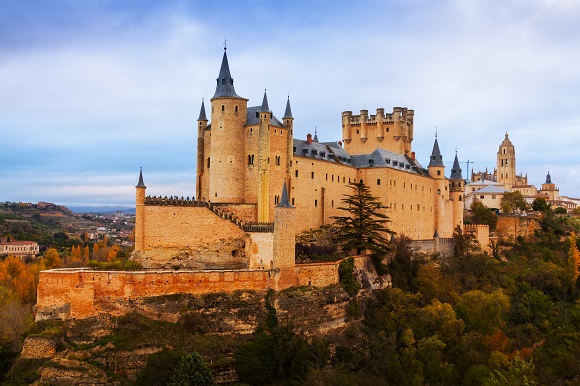 IMG: Shutterstock