To help you make and capture awesome travel memories in 2017, liligo.com ran a sweepstakes over December 2016/January2017 offering some pretty awesome prizes. Now, the winners have been drawn – see the results here! 
Here at liligo.com, we know that getting to your destination is only part of the journey – it's when you arrive that the memories can truly be made. We've made it our mission to get you wherever you're going, for the best price possible. But we know that the journey doesn't stop there!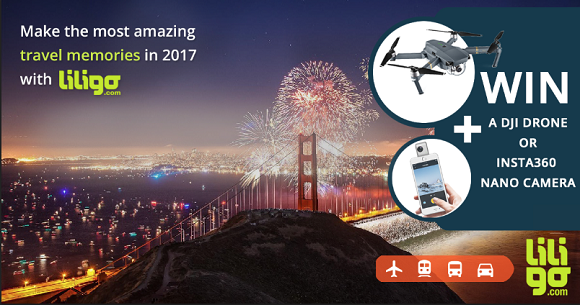 That's why we put 15 Insta360 Nano cameras and one DJI Mavic drone up for grabs in our #liligotravelmemories sweepstakes to help you make the most of your travels in 2017. Open from December 12 through January 2, the sweepstakes has now closed and the winners have been selected!
Multiple entries were possible with a number of simple ways to take part, such as following liligo.com on twitter or signing up for our newsletter. 16 winners were chosen randomly from thousands of entries, and all have been contacted – these are the results.
Winner of the DJI Mavic Drone 
Georgi W – Other City
Winners of the 15 Insta360 Cameras
Donny R – Other City
Kate C – Denver
Jackie S – New York
Selinda M – Other City
Paula W – Orlando
Nicole K – Minneapolis
Marty C – Other City
Donna B – Chicago
Nanette O – Phoenix
Ruben H – New York
Sheri S.B – Other City
Darla P – Philadelphia
Chris H – Denver
Josh L – Phoenix
Eric R – Washington
Weren't lucky this time? Keep an eye on the liligo.com Facebook and Twitter pages, as well as the 

Traveler's

 Edition for any future sweepstakes!