When buying flight tickets online you may feel a familiar wave of panic wash over you before you click 'confirm'. A million questions cross your mind: have I filled it out correctly? Have I missed something? Have I booked the correct flight?
In all honesty, clicking confirm may be the most stressful part of your whole trip. But don't panic, we understand this 'pressure moment' and with our checklist you will be able to sleep peacefully until your departure.
6 mistakes to avoid before confirming your purchase 
1. Typos on your passenger information
Probably the most common mistake people make is misspelling their name, or entering the wrong passport number. It sounds silly, but it's easily done when you are typing fast.
Even a small spelling mistake could prevent you from flying since the name you enter in your booking has to match your passport number. It is possible to alter data once the reservation is confirmed, but this will come at a cost too. To prevent paying extra double, or even triple, check your passport number and the spelling of your name.
Same with dates, double check the month and day are correct.
Of course passport ID is not always required. Until January 22, 2018, residents of all states will still be able to use a state-issued driver's license or identification card for domestic air travel. Passengers can also continue to use any of the various other forms of identification accepted by TSA (such as a Passport or Passport Card, Global Entry card, U.S. military ID, airline or airport-issued ID, federally recognized tribal-issued photo ID).

2. Clicking confirm without double checking the price
The time between clicking on the flight you want and the time of payment is enough time for the price to change. Be sure you are paying for exactly what you want and no sneaky additional costs are added on without you noticing. Look at the breakdown and if you're happy with that, confirm to purchase. liligo.com has a simple breakdown showing you exactly what is included in the price, so you won't get any unwelcome surprises.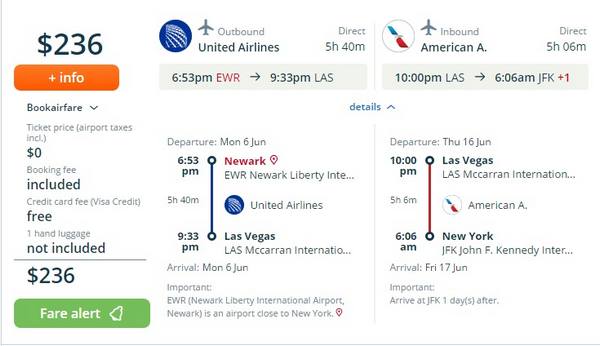 Flight, bus or train : find the best option to travel with liligo.com

3. Not choosing the cheapest means of payment
The ticket price can sometimes vary depending on your method of payment. So be certain you are using the cheapest mode of payment possible. Here's a sneaky tip: Paypal is frequently the cheapest way to pay. It differs, but as a general rule paypal and debit carry lower charges, whereas credit cards carry the highest.
Of course using the airlines co-branded credit cards will gain you bonus points for flight tickets purchased directly with them through liligo.com. So it is also worth taking this into consideration.
4. Not taking into consideration transfer time between connecting flights
You may find that it is cheaper to buy your flight ticket in 'sections' e.g., you could split a flight from New Orleans to Los Angeles into a flight from New Orleans to Dallas, and a cheap flight from Dallas to Los Angeles.
If you opt for this formula it's important you check twice that you have enough time to reach your transfer flight and that you land and then fly from the same airport.
liligo.com tip: we advise you to avoid buying in 'sections'. Book your connecting flight with a single operator. Thus, in case of problems, it's the company's responsibility to re-route you to your final destination.

5. Not checking the information on your luggage transfer
There are two situations in which you must be particularly vigilant:
If you have organized the route yourself with transfers
If you take two airplanes, with the same company, but from different airports
In both cases, your checked baggage does not automatically follow you from one aircraft to another.
It will be your responsibility to collect your baggage from the first plane and re-check it for the next flight.
Major effort right? That's why we advise you book your connecting flight with a single operator.
6. Not knowing your free baggage allowance
With most low-cost airlines the basic price includes only hand luggage. You can add a checked bag for an additional fee.
Depending on your travel needs, checked luggage may be essential. If this is the case then pay the additional charge when you book your ticket – it will be cheaper than checking your luggage in at the airport.
For regular companies, there is also often a charge for checked baggage if you are flying within the U.S. and Canada.
If you're traveling on an intercontinental flight, you are often entitled to 50 lbs of checked baggage with your ticket, but not always. So be careful when you are confirming your reservation – double check.