Artistic, exciting and lively San Francisco is a whirlwind of sights, tastes and experiences. With a world renowned culinary scene, vibrant nightlife, stunning landscape and artistic heritage the Californian city is a great destination for a city break!
Fly To San Francisco
> From Las Vegas: $56
> From New York: $216
> From Chicago: $143
> From Los Angeles: $84
> From Dallas: $207
> From Seattle: $156
> From San Diego: $96
Prices are quoted for round trip flights; found on liligo.com February 9, 2017
Factsheet
Population: 865,000
Annual rainfall: 23.64″
Best time to go: To avoid the crowds and unpredictable weather of summer, head to the city in Spring or Fall. A trip between September – November offers warm weather and better deals than high season, while Spring sees a low level of rainfall and again, fewer crowds. Winter is the time to visit if you really want to grab a bargain, but be prepared for cold weather!
Things To See And Do In San Francisco
Walk Across the Golden Gate Bridge
One of the city's most iconic sights, no trip to San Francisco would be complete without a visit to the Golden Gate Bridge. Visitors can walk across all 1.7 miles of the bridge thanks to a pedestrian walkway, admiring the view over the Golden Gate strait as they go. Possibly one of the world's most photographed sights, its sheer scale and beauty have to be seen to be believed.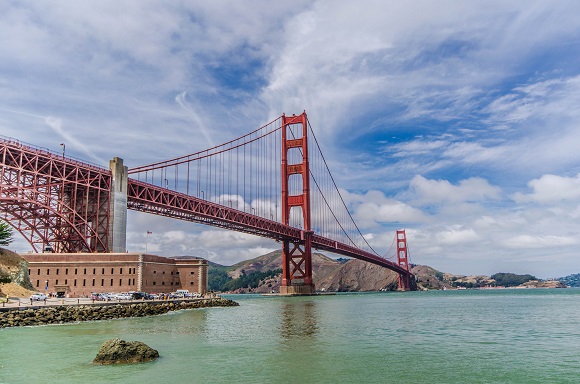 Explore North Beach
San Francisco's Italian Quarter offers a vibrant atmosphere and plenty to see and do – no matter what time of day it is! The area's lively nightlife offers visitors a choice of cabarets, jazz clubs, bars and live music venues while during the day, sidewalk cafes and restaurants await. Visit the Church of Saints Peter and Paul; and head to the peak of Telegraph Hill to check out Coit Tower, which offers stunning views over the Bay. The walls of the tower's ground floor were decorated by 30 local artists in 1933, making this a great opportunity to learn more about the city's artistic culture.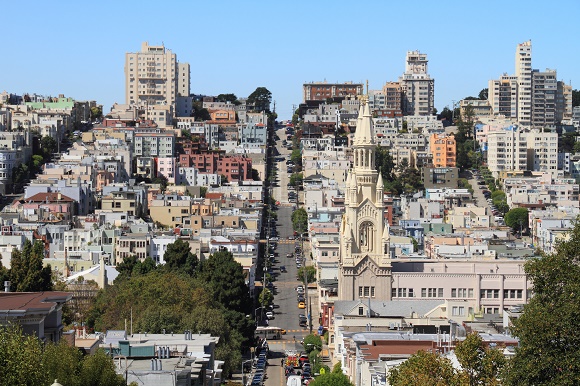 Visit Alcatraz
One of North America's most notorious prisons, this former federal penitentiary can be found on a rocky island in the San Francisco bay. Once home to some of the country's most infamous criminals, such as Al Capone and Robert Stroud, today the prison is no longer active and can be visited by those curious to learn more about its history. Operating from 1934 – 1963, tours are now available to take visitors around the prison.
Eat, eat, eat!
A popular destination for foodies from across the country, San Francisco is known for its excellent culinary scene. Whatever your taste, there's probably a restaurant to suit it here in the City by the Bay. With a combination of local and international cuisine, high end dining and street food aplenty, you'll never go hungry here. Visit the Chinatown on Grant Avenue and Stockton Street for a taste of authentic Chinese food in North America's oldest Chinatown; head to Fisherman's Wharf for fresh seafood; or follow your nose and see where it takes you. This is San Francisco, so it'll probably be delicious!