Congratulations you have a beautiful new addition to the family! Here's how to keep your little prince or princess happy during your time in the air.
Booking your flights
As long as mom and baby are healthy, there's no reason not to fly. Check your airline's policy for newborns before you book your tickets. The Federal Aviation Administration allows children who are between 14 days and 24 months old to sit on a parent or guardian's lap, but strongly advises infants under 40 pounds to sit in a child restraint system (such as a car seat) during flights. This will be an additional seat cost (possibly discounted adult price) but it will be the safer and more comfortable option – plus you will thank us for the extra leg room. Car seats come with their own set of restrictions; please consult the FAA website for more information. Don't forget to check with your airline to see if additional restrictions apply. And to apply for your child's passport! Due to recent changes in the law children can no longer travel on their parent's passport.
Packing
Packing for a flight with an infant becomes a whole new ballgame.
What to pack in your carry-on:
• Wet wipes
• Diapers
• Antibacterial wipes (for the changing trays)
• Sterilized dummies
• Spare clothes (for you and your baby)
• Baby's favorite toy and blanket
• Baby spoon and bibs if needed
• More than enough formula and food for the journey (you never know if you will delayed)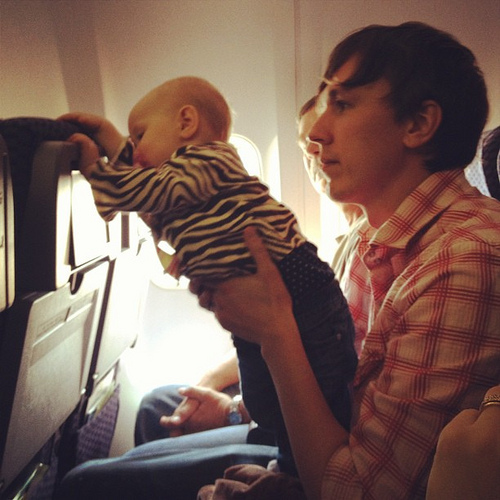 During your flight
The dream situation: the vibration of the engine sends your little angel to sleep for the full duration of the flight. Your worst nightmare: you're labelled as the parent with the screaming newborn. The flight could go either way. But here are some tips that will help keep your baby calm and settled during the flight.
• Breastfeed of bottle feed during takeoff and landing – it will help with the change of cabin pressure.
• If your baby is awake, walk them up and down the aisle.
• Choose a flight that won't upset your babies routine, like a red-eye flight if you're going long haul.
• If your flight isn't too full, ask to be moved to an empty row.
• Relax – if you're calm your baby is more likely to be calm too.
Feeling up to the challenge? Book your first family vacation and find the cheapest deals available through our search engine.
IMG: donnierayjones, dpstyles™ / Flickr cc.