You need to be extra diligent when it comes to hand baggage and checked bags, the last thing you need before you board your flight is an unwanted fine or penalty for not adhering to the airline's baggage regulations strictly enough. Liligo.com provides you with all the numbers you need to know to avoid any weighty charges.
If the dimension or weight of the baggage exceeds Lufthansa policy then there will be an additional fee, in some cases you could pay up to $450 so be sure to adhere to the rules.
Read below for the updated baggage allowances for Lufthansa airlines.
Free baggage allowance on all transatlantic flights:
The permitted free baggage allowance is determined by the service class booked and the status of the passenger (shown on the ticket/ Passenger receipt).
Economy Class – one carry-on bag and one checked bag up to 50 lbs)
Premium Economy Class – one

 carry-on bag and two checked bags (up to 50 lbs)

Business Class – two

 carry-on bags and two checked bags (up to 70 lbs)

First Class – two carry-on bags and three checked bags (up to 70 lbs)
Plus one small item of carry-on baggage (max. 12 x 16 x 4 in)
Dimensions
Dimensions for carry-on bags: 

Maximum weight is 17 lbs and it should measure no more than 22 x 14 x 9 in including handles and wheels

Dimensions for checked bags: 

Maximum weight of checked baggage depends on the fare option and it should measure no more than 62 in (Length + Width + Height)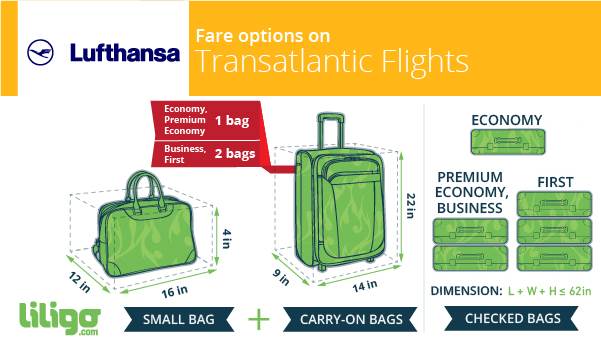 Free baggage allowance on  European flights
Economy Light – one piece of carry-on baggage up to 8 kg
Economy Classic – one piece of carry-on baggage up to 8 kg and one checked bag (up to 50 lbs)
Economy Flex – one piece of carry-on baggage up to 8 kg and one checked bag up to 50 lbs

Business Class – two carry-on bags and two checked bags (up to 70 lbs)
Plus one small item of carry-on baggage (max. 12 x 16 x 4 in)
Dimensions
Dimensions for carry-on bags: Maximum weight is 17 lbs and it should measure no more than 22 x 14 x 9 in including handles and wheels
Dimensions for checked bags: Maximum weight depends on the fare option and it should measure 62 in (Length + Width + Height)
With the new Light fare, one piece of baggage weighing up to 23 kg can be booked for a fee. With the Classic and Flex fares, as usual, one piece of baggage weighing up to 23 kg is free.Find luggage information for other airlines: