Every year Thailand rings in the New Year with a huge water fight. Songkran Festival marks the traditional Thai New Year, taking place from April 13th to 15th. This is also the hottest time of the year in Thailand, so a little SuperSoaker action is definitely welcome!
Spring cleaning
Songkran takes place across Thailand but the most famous festivals are in Bangkok and in Chiang Mai, where it can go on for 5-6 days. A lot of foreigners think New Year's is just about having a huge water fight (which it is) but there's so much more to Songkran than just that. Many Thais use this time to visit their elders and visit a wat, Buddhist monastery, to make offerings and give food to the monks.
In some cities the monastery's Buddha statues are paraded through the streets so people can throw water on them, essentially "spring cleaning". Like Western New Year's many Thais will make year-end resolutions and may also refrain from doing anything naughty during the festival days.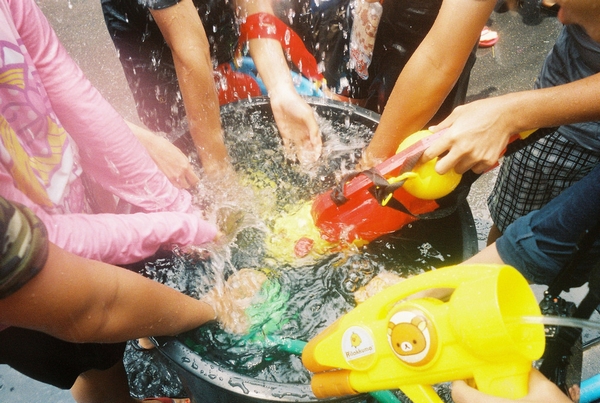 Hot, hot, hot
April is the hottest time of the year in Thailand, with daily highs reaching up to 105°F, which is why the water fights are so popular. It's the best way to cool off!
Tips for Songkran
Street festivals in Thailand mean one thing: total traffic gridlock. Don't count on ground-level street transportation to get around during festival days.
Get ready to be drenched… from dawn until dusk! (keep your wallet/passport/camera in a plastic bag if you happen to be carrying them with you).
Everyone is fair game, but foreigners are favorite targets for the locals! Smile and don't be shy to have your own water gun at the ready!
Impress the locals with these Thai phrases
Sa-wat-di pi mai – Happy New Year
Suk-san wan songkran – Happy Songkran Day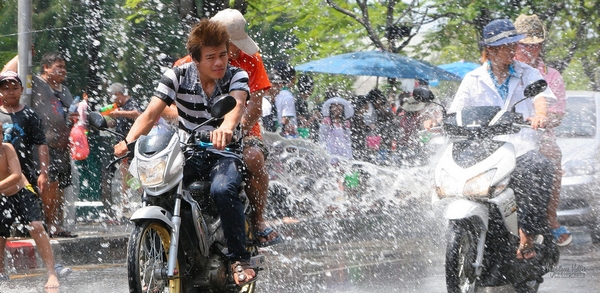 Have you ever been to a Songkran festival in Thailand? If you're planning to go this year book your flights in advanced.
IMG: LightOnDude, Mr.S CameraMan, Wyndham / Flickr cc.