liligo.com shares all the baggage information you need to fly on the low-cost carrier Spirit Airlines without being sucker punched with a nasty pre-vacation luggage fine. From carry-on allowance to checked baggage policies, we've got you covered.
Spirit Airlines is the leading Ultra Low Cost Carrier in the US. With fare tickets named "Bare Fare" and "$9 Fare Club", it's known for its no-fuss and cheap flight tickets. In order to keep fares so low, Spirit Airlines charges for carry-ons and checked bags.
Of course, airlines known for their super cheap flight tickets are also notorious for hitting you with a whopping fine if you fail to adhere to the weight or measurements policy. Read our luggage rules for Spirit Airlines and make sure you won't have an unpleasant surprise ahead of your next vacation.
Carry-On Baggage
Spirit Airlines' Bare Fare includes one personal item for free; your personal item must not exceed 18 x 14 x 8 inches including handles and wheels.
You can take an additional larger carry-on bag on board for a fee. The cheapest option is to purchase your carry-on bag when you purchase your ticket online. You can also purchase your carry-on bag online before or during online check in, or in person at the gate – but this will cost more. The price for carry-on baggage varies depending on route, time of the year and ticket type. The bag must not exceed 22 x 18 x 10 inches (including handles and wheels).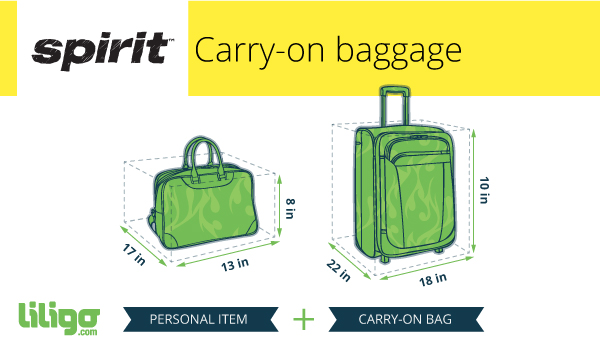 Checked Baggage
Spirit always charges for checked bags, but the exact price per bag depends on the route, time of the year and ticket type. You can use the airline's Bag-O-Tron to determine the price of your bags. Every passenger is allowed up to five bags, which must not exceed 40 lbs in weight and 62 linear inches in overall dimensions.
The airline accepts overweight and oversized bags up to a maximum of 100 lbs and 80 linear inches, but hefty excess baggage charges apply. If your bag weighs between 41 and 50 lbs, the fine is $30, between 51 and 70 lbs it's $55 and between 71 and 100 lbs you'll have to pay $100. You'll also have to pay $100 if your bag is oversized, i.e. between 63 and 80 linear inches.
As with carry-on baggage, the cheapest option is to book your bags along with your flight tickets. You can always add bags at any time before the flight, both online or even in person at the gate for a higher price.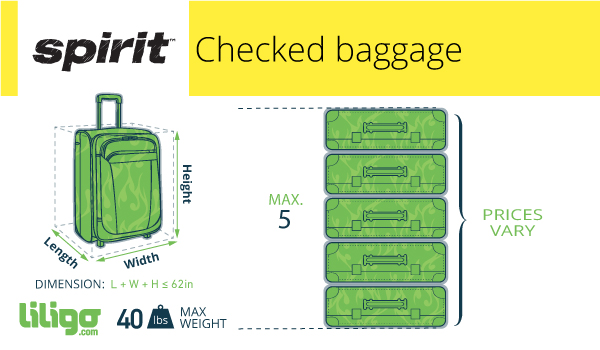 Find luggage information for other airlines: