Tired of your typical beach vacation? Looking for your next thrilling adventure? Here are a few amazing destinations where you can get up close and personal with some mega-big fish. It's time to learn the difference between a Whale Shark and a Great White!
Miami Beach
Planning a trip to Florida? Add some WOW-factor to your flights to Miami by booking a scuba trip to see some local sharks. Dives will take you 90 miles north of Miami where you'll be able to swim in open waters and hopefully bump into some interesting creatures, from massive whale sharks to hammerheads.
Sharks: bull, tiger, whale sharks, lemon and hammerheads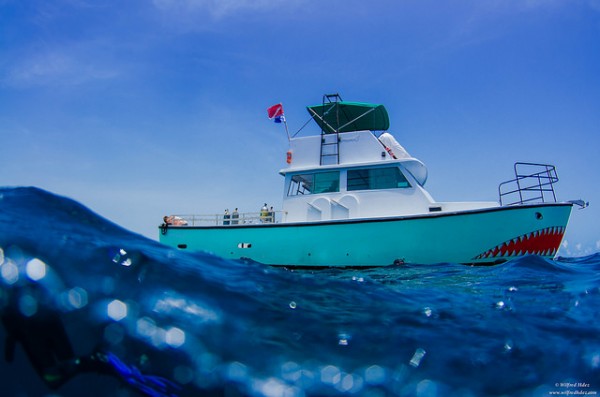 Belize
Belize is famous for its gorgeous beaches. It's UNESCO-protected barrier reef is also one of the longest in the world and home to some beautiful gentle giants known as whale sharks. These are the largest sharks in the world and the best time to see them is in late spring, during the full moon when they come by the masses to feast on snapper spawn.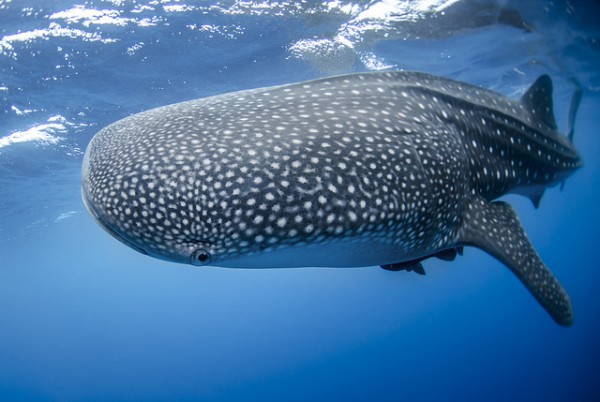 South Africa
You can't get any more adrenaline-pumping than South Africa where you can cage dive (believe me, you'll want the cage) to see some impressive and probably hungry great white sharks. Some tour companies also offer dives where no scuba gear is required.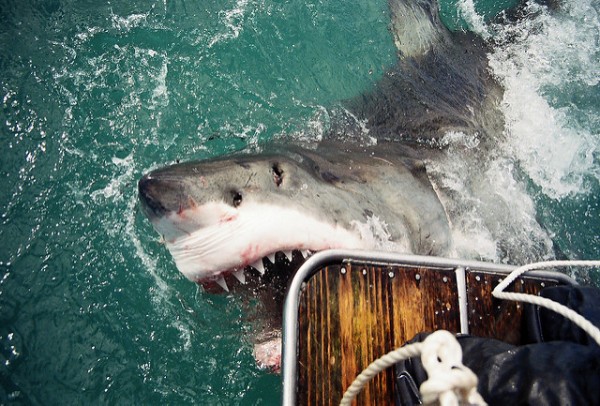 Mexico
Baja
South Africa isn't the only place where you can meet some Great Whites. One of the best places to see them in the Western Hemisphere is just off the coast of Baja. There are lots of cage-dive tours leaving from Isla Guadalupe.
Isla Mujeres
If you're looking for something a little safer, then the waters of Isla Mujeres is a perfect choice, where the largest concentration of whale sharks live. For something extra exciting, book your flights to Cancun in July when the region celebrates the annual Whale Shark Festival.
Bahamas
Cat Island
The untouched and beautifully tranquil waters surrounding Cat Island offer some really cool diving landscapes like steep walls, drop-offs, coral reefs and pretty much guaranteed sightings of white tip sharks.
Sharks: white tips, tiger, reef, nurse and lemon sharks
Tiger Beach
Diving 20 feet deep on a sandy bottom doesn't sound all that exciting, until the sharks come to visit. The crystal-clear waters are perfect for underwater photography! These open-water dives are not for everyone, so make sure you're up for the thrill of swimming with a giant lemon shark! You can also see spotted dolphins here too, who are friendly and fun!
Sharks: tiger, great hammerheads, Caribbean reef sharks and lemon sharks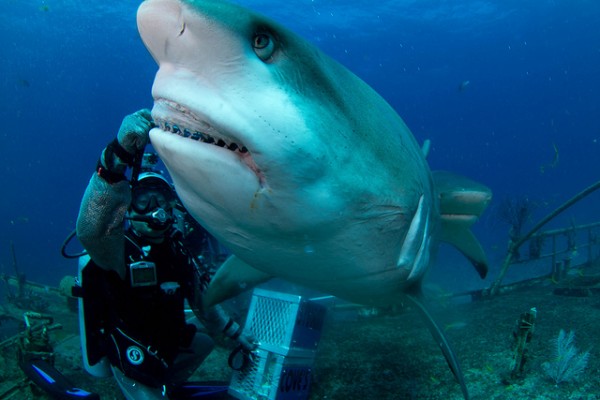 Costa Rica
If you want to pair a cruise with your Costa Rica vacation, why not try a trip to Cocos Island. You can only reach this place on a live-aboard ship and the journey is around 32 hours. You'll probably recognize this place as "Jurassic Park," since the major blockbuster was filmed here. Some of the dives here are deep, so it's recommended to get an Advanced Diver Certification before you go.
Sharks: hammerheads, white tip, mantas, whale sharks, pilot whales and occasionally humpback whales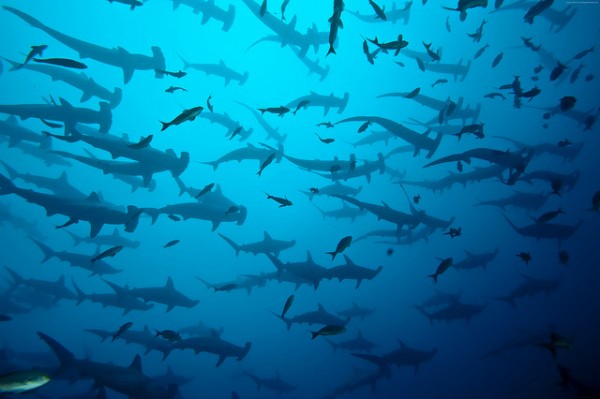 Maldives
This exotic destination has plenty going for it, besides its gorgeous beaches and charming local culture. It's also home to plenty of sharks! Maaya Thila is one of the best spots in the world for swimming with whale sharks.
Sharks: hammerheads, reef sharks and white tips