This week we catch up with liligo.com's resident outdoor adventurer, Elodie. Whether it's hiking in the hills of Slovenia or running around the world, she documents it all on her Instagram and gives us serious travel envy along the way.
Having recently completed the Budapest half marathon, it's safe to say that Elodie loves to run and carries this passion with her wherever possible. Originally from France, recent travels have taken her to Slovenia, Copenhagen, Italy and Thailand. With a trip to Canada planned for the fall, travel is becoming a way of life for this frequent flier. We caught up with her to discuss solo travel, running on the road and dream destinations.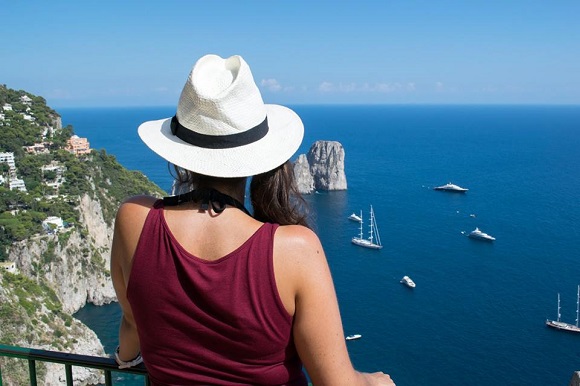 Hi Elodie! Let's start with your travel style: how do you prefer to travel?
At the beginning I was traveling with my family, then with some friends but since I tried solo travel for the first time last March in Thailand, I am more interested in traveling alone.
Why do you prefer solo travel?
Because you feel more adventurous, you are proud of yourself and your ability to survive alone whilst far from your home and your comfort zone.
Also I think you are more able to meet people, local people or travelers. They are always curious and ask questions, like why am I traveling alone, how do I feel traveling alone…Since that first trip 4 months ago in Thailand, I already went to Copenhagen for a weekend and to Slovenia for 9 days alone.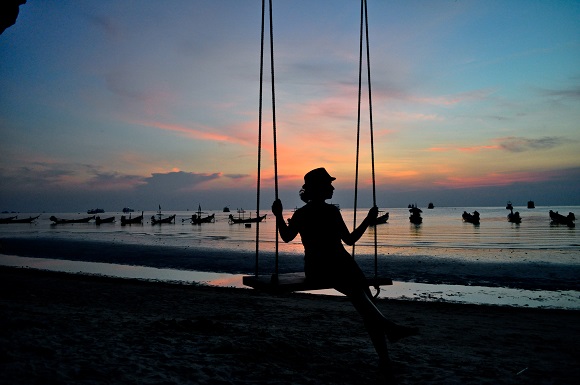 What are your top tips for solo travelers? 
Don't think it's dangerous to travel alone. Just be careful. I think women have these 6 senses which can really help us to evaluate a situation and make the right decision.
Sleep in hostels, then you will meet other travelers like you and you probably won't stay alone for long! Be open to the locals, they can help you and give you some tips.
You've traveled to quite a few different places – which one was your favorite?
That's a difficult question! I've mostly traveled in Europe and I think my best surprise was in Italy. I love the country -and the food obviously! Italy has everything I like: blue sea, beaches, colorful houses, lakes, mountains, historical cities, wine, etc. If I had to choose 3 places in Italy, I would say: Cinque Terre, 5 villages along the sea. Ischia island – it may not be the best island in Italy but it was beautiful, calm and less touristic; and Florence for its architecture and the atmosphere.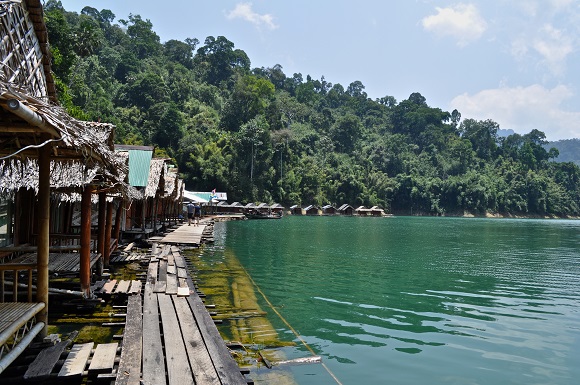 What's your most memorable travel experience?
This may be because it was my first solo trip and my first time outside Europe but when I was in Thailand I had an amazing experience in the Khao Sok National Park. I spent two days on the Cheow Lan lake (part of Khao Sok National Park) with a guide and few other tourists. We hiked in the jungle, meet local people who live there with the minimum and I slept in a very simple bamboo bungalow floating on the lake. At 5 o'clock I woke up because of the noise of the birds and fish, I got out of the bungalow and just appreciated being here alone, in the middle of nowhere, listening to nature and watching the sunrise. It's one of my best memories of this trip! Sometimes you just need simple things to appreciate the moment 🙂
You love to run – how do you keep this up when traveling? 
Yes I love to run! In my active life, I run once or twice per week depending on how busy I am. But during my travels, it's not easy for me to find time to continue my passion.
Actually, when I travel I am always on the road. I like to start early in the morning and finish late in the evening. When I am on a trip I walk around 20-26km per day, so I am usually tired by the end of it! But since I decided to travel slowly, I found a good combination between traveling and running.

Do you think running can help you to discover a new place? How?
Yes definitely! I don't really like to run on the street in the city -when I run during my trips, I try to find parks or nice places to run, along a river for example. When I run abroad I feel like a local. For instance, in Copenhagen, I ran in a park like other runners. You wouldn't have guessed that I was a tourist. And if was not through running I wouldn't have had time to visit the park by foot.
I'm also thinking of new places to go to run a race. Why not take a trip to run the half marathon in London or in New York City?!
What's on your running playlist?
It depends on my mood but at the moment I love listening to: The Sun – Parov Stelar, I Bet My Life – Imagine Dragons, Habits Stay High – Tove Lo, Stitches – Shawn Mendes and Aloha -Mome feat Merryn Jeann.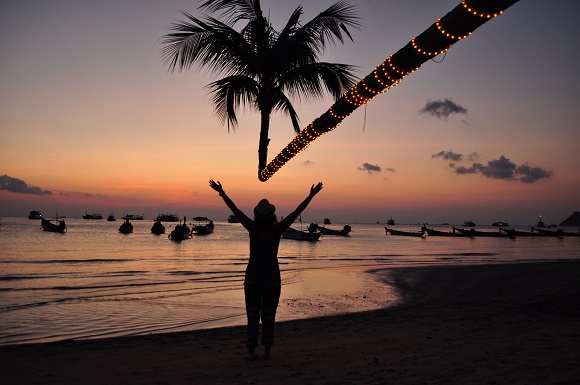 You have an unlimited budget and you can visit one country – where will you go?
With an unlimited budget, can I do a round the world trip?!If I had to pick one place I think, first, I would go to Australia to see the Great Barrier Reef, check out the surf, do some snorkeling, discover the bush, hike in the national parks, run on the white sands and watch the stunning sunsets.
IMG: C/o Elodie