WiFi is becoming pretty much the norm these days when you travel. You can connect for free in just about every café, library and museum – but how about in the air? If you love to stay online and keep in touch while on the go, these airlines have got your back.
While quite a few airlines are now offering WiFi onboard, it's rarely free. In-flight WiFi is still a very premium service! European airlines seem to be lagging in this area but you can still get it with some of the bigger carriers. Here in the US it's a lot more promising and within the next 2-5 years most major airlines should be outfitted to offer WiFi.
At the time of writing, Virgin America is the only airline that has their whole fleet outfitted with WiFi although other airlines aren't far behind. In general, you can expect to pay to use the in-flight WiFi with a number of price points and packages available. The majority of airlines offer a monthly pass for those regular fliers among us, while there are also one day passes and hourly options to choose from.
A large number of airlines today offer in-flight WiFi through Gogo, including Delta, Alaska Airlines, American and United. Voice calls are generally not permitted, however it is possible to send emails, check your social media, and in some cases the WiFi is even strong enough to stream movies and TV shows!
JetBlue is one of the few carriers to offer a free in-flight WiFi option: Fly-Fi with Amazon. You can send and receive emails, browse the internet and even stream movies and TV shows on Amazon Video! Other airlines, such as Southwest, offer free WiFi to their most loyal members.
With in-flight WiFi becoming something many travelers have come to expect from their airline, and many airlines responding by providing it, it's never been easier to stay connected whilst 35,000 feet in the air!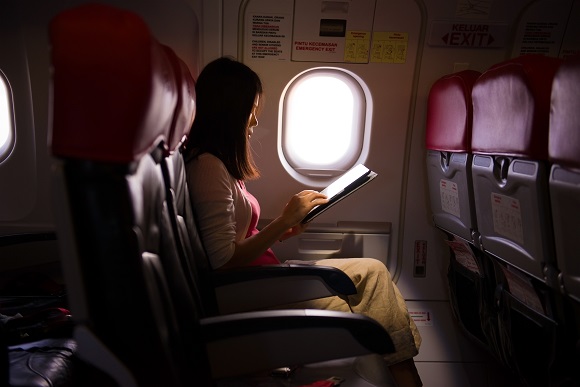 Want in-flight WiFi? Here's a round-up of who has it and what it costs.
| | | |
| --- | --- | --- |
| Airline | Details/Availability | Price |
| British Airways | Club World London City Airbus A318, on flights to New York JFK from London City | International roaming fees apply, billed to you through your phone service provider; laptops need their own GPRS card to use the internet |
| Lufthansa | Available on domestic routes and most long-haul aircraft | 1 Hour Pass: $104 Hour Pass: $15.50Full flight pass (up to 24 hours): $19 |
| Alaska Airlines | WiFi enabled aircraft are identifiable by a small mark next to the boarding door | In-flight WiFi from GogoPrices range from $1.95 to $39.951 Hour Pass: $51 Day Pass: $16 |
| American Airlines | Passengers can check if their flight offers WiFi online before departure | Domestic flights1 Day Pass: $16 plus taxMonthly Subscription: $49.95 plus taxInternational & Select Domestic Flights2 Hour Pass: $124 Hour Pass: $17Full Flight Pass: $19 |
| JetBlue | Fly-Fi® is available on most JetBlue aircraft, | In-Flight WiFi with Fly-Fi & AmazonFreeFly-Fi+ with JetBlue$9/Hour |
| Southwest | Passengers can use the online "WiFi Finder" within 24 hours of departure to check if their flight offers WiFi | 1 Hour Pass: $104 Hour Pass: $15.50Full flight pass (up to 24 hours): $19 |
| United Airlines | All mainline aircraft; 211 of 218 two cabin regional aircraft as of October 2016 | 1 Day Pass (per device): $8 |
| Virgin America | Available on 100% of fleet | Satellite WiFi from ViaSatShort Haul (<2 hours): $4.99Short – Medium Haul (2 – 3 hours): $7.99Medium Haul (3 – 4 hours): $9.99Medium – Long Haul (4 – 5 hours): $13.99Long Haul (5 hours): $17.99In-flight WiFi from Gogo1 Hour Pass: $51 Day Pass: $16 |
| Delta Air Lines | All two-cabin aircraft offer WiFi; all international wide body aircraft offer satellite-based WiFi | In-Flight WiFi with Gogo1 Hour Pass: $51 Day Pass: $16 |
| Qatar Airways | WiFi is available on A380, A350, B787, A319 and selected A330, A320 and A321 aircraft | Passengers can find all pricing information on the in-flight WiFi homepage. |
| Air Canada | Available on select North American flights and all narrow-body aircraft | In-flight WiFi from Gogo1 Hour Pass: $51 Day Pass: $16 |
Would you pay to access wifi on your next flight? Search for your next flight destination on our search engine to find the cheapest deals.
IMG: raimundo illanes, Thomas Hawk / Flickr cc.