Next weekend marks the start of Germany's Onion Festival celebrating, well, onions. This festival may seem kind of odd but trust us; there are plenty of bizarre festivals out there.
Here we list our favorite quirky festivals that take place around the globe. Maybe one might even inspire you to book a flight and experience the festival in real life.
The Baby Jumping Festival (El Colacho)
Known locally as "El Colacho", the Spanish festival involves men dressed as the devil jumping over infants who were born in the previous twelve months. Of course, it sounds kind of odd, but this festival is in fact a religious ritual that first started in 1620. I idea of the jumping, is to cleanse the babies of the original sin and make them ready for God's plan.
Cheese Rolling, England
Again, pretty self-explanatory. This festival involves rolling a wheel of cheese down a steep hill in Gloucestershire which contestants then try and catch.
Just take a look at the video from this year's festival which pretty much sums up how crazy the contest can get. We think some of these cheese chasers felt a bit sore in the morning.
Wife carrying world championships, Finland
Now this is a bizarre one! In Finland the annual celebration of a sport called Wife carrying championships is actually rather popular. The sport requires husbands to carry their wives along the 243 meter long course.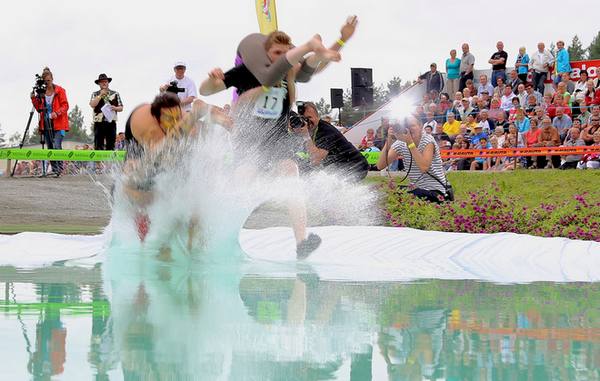 La Tomatina, Spain
Valencia welcomes 20,000 visitors for its festival which involves people throwing tomatoes at one another in the best food fight you will ever see. Don't forget your eye goggles – you don't want tomato sauce getting all up in there. Note: don't wear anything nice, it is going to get messy.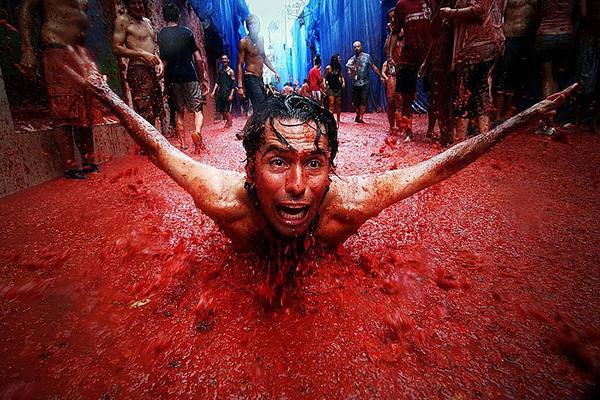 IMG: spisharam, Visitlakeland, nedim.chaabene / Flickr cc.