We've already taken a look at the best rooftop bars of Paris and New York…now, it's time to head to Berlin. With an alternative vibe, great views and delicious drinks in the German capital, look no further.
Check out our rooftop bars series:
House of Weekend
A nightclub with a roof garden offering spectacular views over Berlin, this is one of the best places to grab a drink before dancing the night away. When we say spectacular views, we're talking reach-out-and-touch-it proximity to the city's icnonic TV tower and vistas over Berlin which are pretty much unbeatable. The bar can get crowded thanks to its unsurprising popularity, so book ahead to ensure a seat.
Address : Alexanderstrasse 5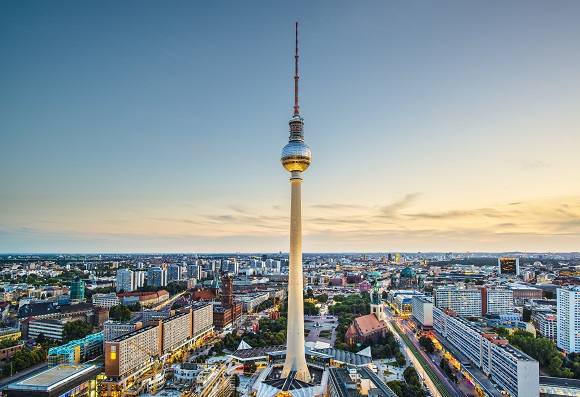 Watergate
A popular night club on the riverfront in Berlin, Watergate is open late until midday the next day, Wednesday through Saturday. It's popularity means it can be hard to get in – but the wait is worth it. The young and trendy from Berlin's Kreuzberg district mingle with hipster tourists from across the world. It's not exactly a rooftop but there is an outdoor terrace with a great view over the Spree river and the majestic Oberbaum Bridge. The sound is techno-house, and with a strong line up of DJs it's one of the best clubs in Berlin. The best of the best local DJs have taken up residence here – that is, when international names aren't taking control of the decks!
Address : Falckensteinstrasse 49, Kreuzberg.
Monkey Bar
Found on the 10th floor of the boutique 25hours Hotel, Monkey Bar offers a cool, relaxed vibe; delicious drinks; and food from NENI Berlin, a restaurant found on the same floor. The view is breath taking: both Berlin and its zoo can be seen from the bar, which gets crowded around sunset thanks to the awesome vistas. The bar is open from midday every day, and if you want to avoid the crowds it's best to go early.
Address: 

25hours Hotel Bikini Berlin, 

Budapester Straße 40
Panorama Punkt
This rooftop café offers perhaps the best views over Berlin's city center. Located on Potsdamer Platz, in the Kolhoff tower, the café is reachable by the fastest elavator in Europe which transports thirsty visitors to the 24th floor café in just 20 seconds. With the city sparkling below, the panoramic views over Berlin are breath taking and can be enjoyed from 10am – 8pm.
Address : Potsdamer Platz 1, 10785 Berlin
Solar Sky Lounge & Restaurant
Comfortable seating, delicious cocktails and panoramic views over Berlin can all be found at this sophisticated rooftop bar in the heart of the city. Open from 6pm every day, it's the perfect place to enjoy a well earned drink while watching the sunset after a day of sightseeing in Berlin.
Address : Stresemanstrasse 76, solarberlin.com
IMG: Shutterstock & Instagram