Hold onto summer with a sundowner at one of these rooftop bars in Los Angeles: there's nothing like sipping a cocktail poolside with L.A. glittering below to make you forget your troubles and keep that summer spirit going. 
Check out our rooftop bars series:
Thanks to its year round warm climate and chilled out vibe, the rooftop bars of Los Angeles tend to stay open throughout the year. Fire pits, open air fireplaces and winter warmers mean that whether summer or winter, it's always a good time to book cheap flights to Los Angeles and head for city's sky high bars. With colorful sunsets, views over the Pacific Ocean and open air pools, the rooftops of Los Angeles are the place to go.
High Rooftop Lounge 
As the only rooftop bar and lounge in Venice Beach, the High Rooftop Lounge was a shoe in for this list. Fortunately it's got more than just its location going for it: the views over Venice Beach and out across the Pacific Ocean might be spectacular, but so are the drinks. With both summer and winter friendly beverages – try the Mexican Spiced Hot Chocolate (tequila included, of course!) – this is the perfect place to relax and watch the sunset over the ocean on L.A's coastline.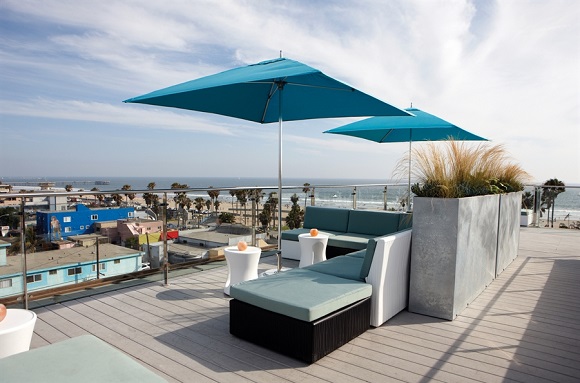 Perch LA 
For a little taste of France in Los Angeles, look no further than Perch, a French inspired rooftop bistro offering 360 degree views over downtown LA. Outdoor fireplaces and fire pits make this bar and restaurant a cozy option all year round: relax on the wraparound balcony and enjoy the seasonal menu on the 15th floor, or head to floor 16 for delicious cocktails and live jazz music with breathtaking views over the city.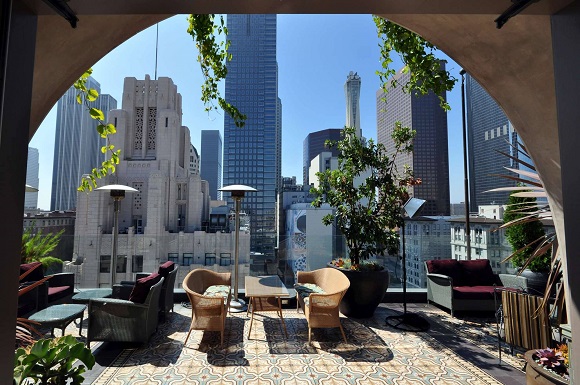 Mama Shelter 
Nestled in the heart of Hollywood you'll find this eclectic, colorful and fun rooftop bar. Opened just this year, the 360 degree views over downtown LA to the Pacific Ocean, via the world famous Hollywood sign, have proven popular with locals and visitors alike. More than a simple rooftop bar, Mama Shelter also offers yoga classes, film screenings, DJ sets and more. Relax into a colorful couch on the leafy terrace, try your hand at foosball and sip on a refreshing cocktail to round off a day's sightseeing in Los Angeles.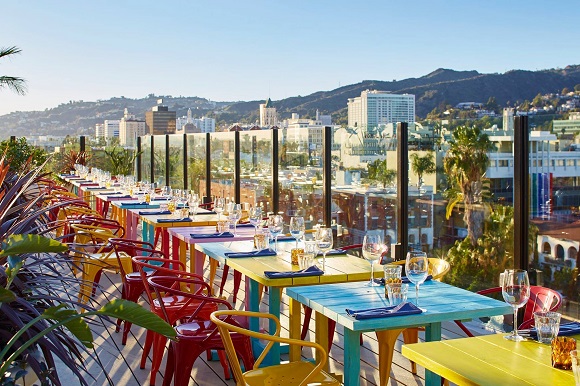 Upstairs 
Hollywood's famous Les Deux Café provided the inspiration for this hip rooftop bar atop the Ace Hotel Downtown. Chill out by the pool with a cocktail and snacks from the California-inspired menu whilst downtown Los Angeles spreads out before you. The panoramic views are stunning and the rooftop terrace, with its relaxed atmosphere and events including live music and creative collaborations, means it's a popular space so book ahead.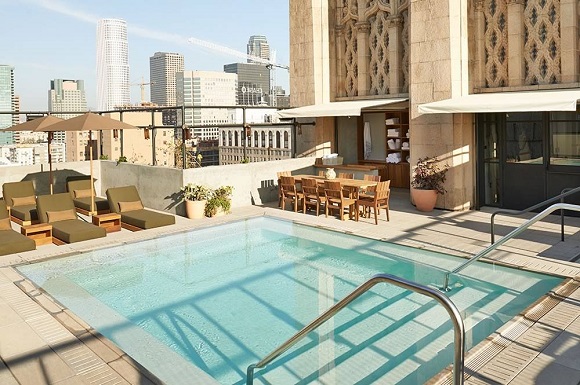 The Roof on Wilshire 
With panoramic views over the Los Angeles skyline and the Hollywood Hills, this sophisticated rooftop bar offers a vista to remember. Chef Eric Greenspan has created a menu featuring "Vibrant American" cuisine (Smores cheesecake anyone?!) which can be enjoyed from brunch to dinner. An open air pool surrounded by cabanas and loungers completes the L.A. city cool vibe.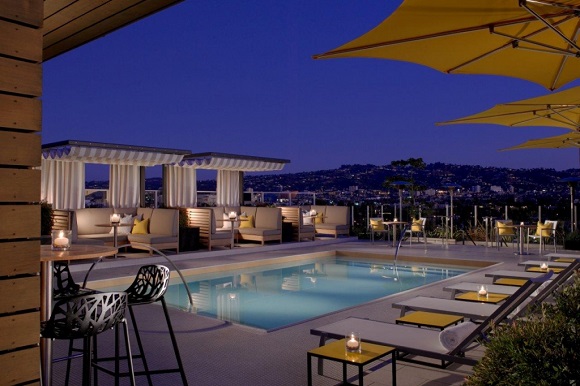 Planning a trip to Los Angeles? Sign up for a liligo.com fare alert to keep up to date with the best travel deals!