Can you think of anything better than pitching your tent with a view good enough to be a screen-saver just outside? We're pretty lucky to have so many National Parks to explore across the US, so let's take advantage of them! Here are the most scenic and beautiful campgrounds to rest your head in at the end of a long day in nature.
1. Northern Rim Campground – Arizona
You can't write a post about camping in the US without including at least one campground near this natural wonder. The Grand Canyon is on just about everyone's bucket list and its popularity shouldn't discount the beauty of this place. The views from the North Rim, where this campground is located, are simply breath-taking and the Northern Rim is far less developed than the South Rim – which means you might actually be able to appreciate this stunning area in peace and quiet.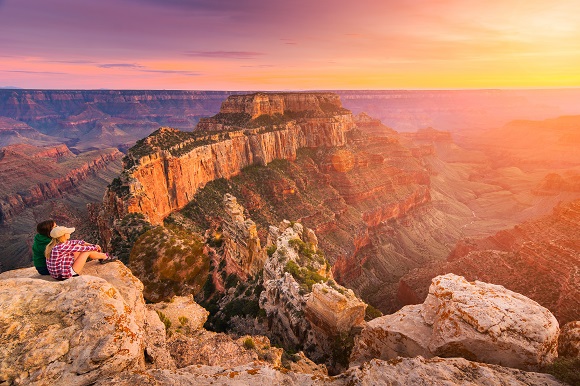 2. Joshua Tree's Jumbo Rocks Campground – California
We can't get enough of this National Park and if you're looking for a beautiful place to stay while you're here, this is it. There are a number of campsites located in the park, but this is one of the best and it's known for its big boulder rocks that shelter sites from the wind. There are 124 sites, which are all first-come, first-served so if you miss out on this campground, try White Tank instead.
3. Sage Creek Primitive Campground – South Dakota
Located in Badlands National Park, don't be alarmed if you wake up to the sound of bison wandering past your tent! It's a regular occurrence at this campground and definitely lends to the magic of the place. Watch the prairie lands turn a golden color at sunset and dawn; and listen at night to hear the howls of the local swift foxes.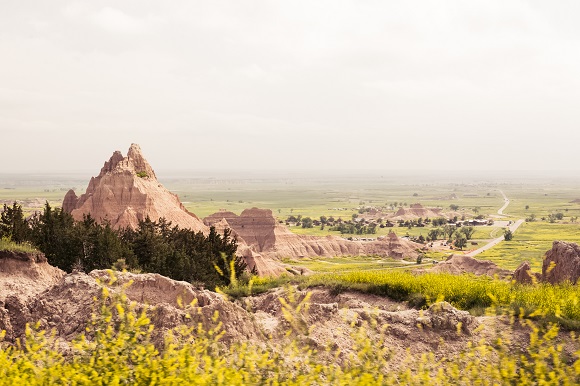 4. Watchman Campground, Zion National Park – Utah
At the foot of Zion National Park's iconic The Watchman, this is a great spot to pitch your tent and use as a base for exploring the park by day. You can reach it by foot from the park's visitor's center and it's open year-round. Keep in mind, this is one of the most popular campgrounds in Zion National Park, but luckily sites are spacious so you never feel too close to your neighbors.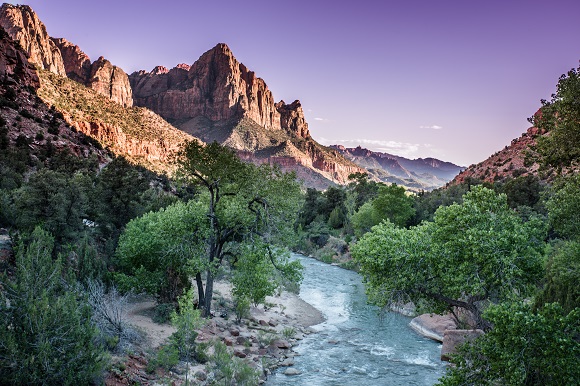 5. Arch Rock Campground – Nevada
Just 55 miles from Las Vegas in the Valley of Fire State Park, Arch Rock Campground is the quieter of the two campgrounds in the park and is surrounded by dramatic red sandstones. The sites are all very private as well, each tucked away between sandstone formations that have been artfully eroded over time by the Earth's elements. You can explore Arch Rock and Atlatl Rock on foot right from the campsite and your site fee includes park entry as well.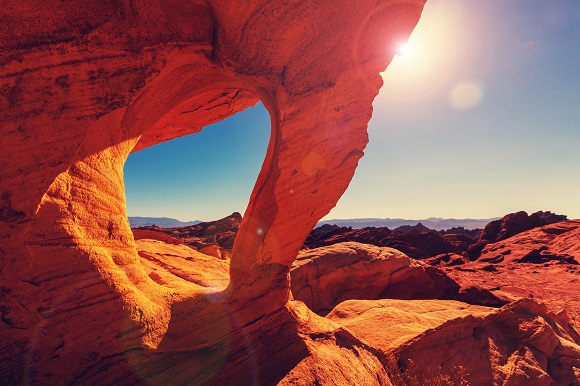 6. Gros Ventre Wilderness – Wyoming
Those are the Tetons off in the distance there; aren't they beautiful? You won't find many crowds here, a real draw for the area, but there is plenty of wildlife! Keep your eyes peeled for your furry neighbors like bears, moose, elk and lots of marmots. One of the great things about camping in Gros Ventre is that you don't need a permit for backcountry camping; you can pitch your tent anywhere you like! There is an actual campground here though, if you prefer having some amenities close by.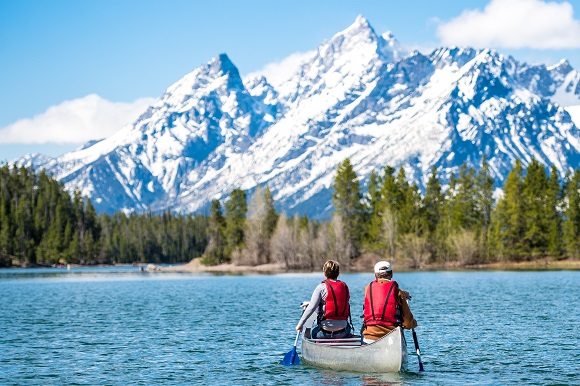 7. Assateague Island Campgrounds – Maryland
This campsite has it all, to say the least: beach camping, swimming, surfing, good paddle-boarding, crabbing (so much fun if you're bringing the kids along!), biking, kayaking, wild horses… we could go on. It's 9 miles south of Ocean City and boasts 37 miles of oceanfront beaches. As Assateague Island has both a state park and a national park, their campgrounds also offer something different but if you want a warm shower, then camp at the state park campground.
8. Bartlett Cove Campground – Alaska
This campground is located right in the middle of Glacier Bay National Park and although it's way off the beaten path, it's worth the effort it takes to get here. Alaska is secluded and remote but it's definitely one of the most rewarding places in the country to travel. It comes highly recommended if you love hiking, kayaking and looking for wildlife as the region's residents include grizzly bears, elk, humpback whales and wolves… just to name a few!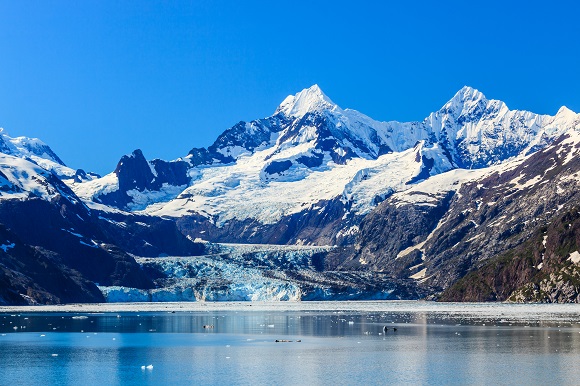 9. Piñon Flats, Great Sand Dunes National Park – Colorado
If you want to be in the middle of all the action, this campground is the place to be! In one direction you can see the impressive dunes, the tallest in North America, right from the campground; in the other are the snow-covered peaks of Sangre de Cristo. Being so close to the dunes means you can wander over to them right from your tent by foot – talk about an ideal location. For hard-core hikers, try climbing Star Dune… the tallest sand dune of them all!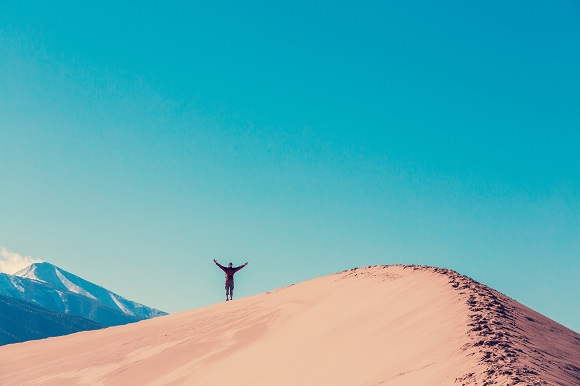 10. Garden Key Campground – Florida
This pretty place in Dry Tortugas National Park is right by the beach and you'll have one of the world's largest barrier reefs right outside your tent! Rent some snorkel gear or bring your own, and spend your days finding Nemo and his friends, lazing on the beaches or exploring Fort Jefferson. This group of islands located 70 miles west of Key West is a haven for water-lovers and you'll need to take a ferry to reach the campground. This area is also great for bird-watching, so make sure you pack pair of binoculars.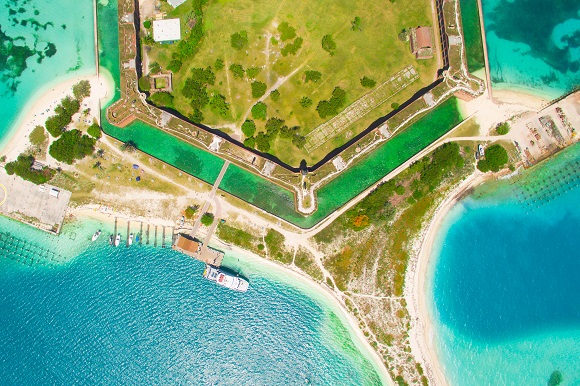 11. Sparks Lake – Oregon
We think the views of the surrounding Cascade Mountains speak for themselves. Can you imagine unzipping your tent and poking your head out to a view like this, of the North Sisters and the Brocken Top Peaks? Plus, there's loads to explore in the area surrounding the campsite so don't forget your hiking boots! If you're lucky, you can even catch sight of the Northern Lights here on occasion.
12. Second Beach, Olympic National Park – Washington
You can reach this campground along an easy 0.7-mile walk through Olympic National Park. There's nothing like camping next to this beautiful coastline, marked by several sea stacks… plus did we mention that campfires on the beach are permitted here? The only thing you need to look out for is choosing a campsite that's above where high tide will rise to; once that's settled, the coastal beach is your playground! At low tide, splash around in the tide pools and explore Natural Arch at the north end of the beach.
13. Bear Rocks Trail Camping – West Virginia
Be prepared to hike a short distance to reach this beautiful campground; if you want a campground that's even more secluded, there are more further out. You'll feel like you've been transported to Canada on top of this high-altitude plateau; with its grassy meadows, boulders and views of the Allegheny Mountains off in the distance, it's simply breathtaking. The entire trail is 11.9 miles, and you'll find both established campgrounds and backcountry sites along the way.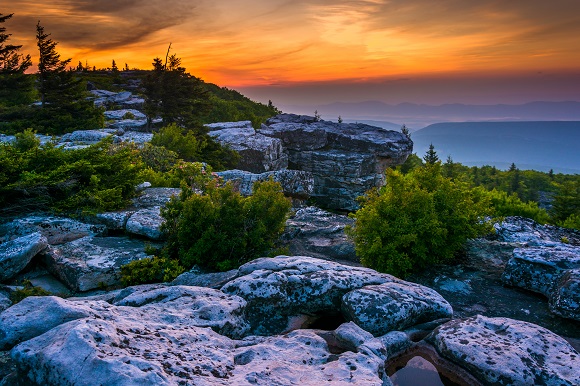 14. Kalalau Beach – Hawaii
Have your eyes on flights to Hawaii? The island of Kauai has some of the most incredible campsites and this one in particular is located at the end of an 11-mile hike in Na Pali Coast State Park, rated by National Geographic as one of the most beautiful trails in the world. It's perched atop some cliffs that offer pretty amazing views over the island's famous beaches. Plus, the waterfall and beach at the end of the hike will be a welcome treat! Soak it all in before you have to head back.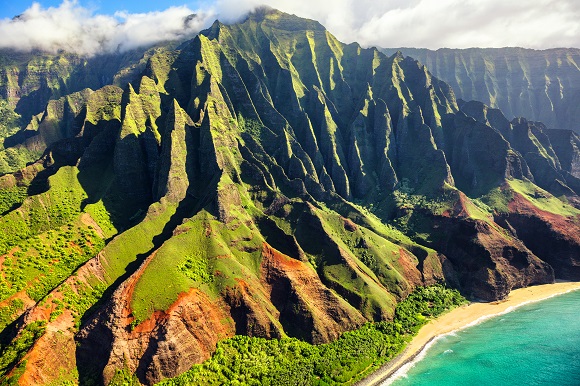 15. Clarks Fork, Yellowstone National Park – Wyoming
For fishing, swimming and canoeing, try this tranquil spot in wonderful Wyoming. The campground is off Beartooth HWY (rated one of the most scenic highways in the USA, so take your time) and is just a stone's throw from Yellowstone National Park. The whole region is spectacular but you really can't beat this campground, with a cascading waterfall just a short walk away. Be warned though, the area is known for its grizzly bears – so make sure you pack some bear protection!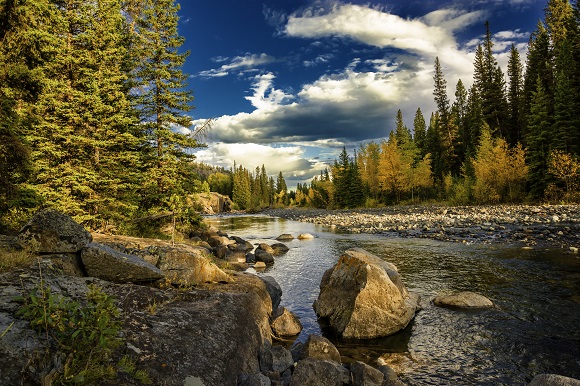 We're going the leave the hard bit up to you: where will you go first?
IMG: Shutterstock