Did you catch wind that there's a new island in town? The newest island in the US recently formed off the coast of North Carolina and is attracting quite a bit of attention. Want to visit it for yourself? Here's our guide to visiting Shelly Island, plus the surrounding Cape Hatteras National Seashore.
It's not news that the islands in Cape Hatteras in North Carolina are always changing. That's thanks to the water, wind and storms that pass by here – but it's not that often that a completely new island forms overnight!
Shelly Island is a sandbank that has grown from a tiny island to a sizeable land mass that is now enticing visitors to brave the waters and visit the region's newest island, called Shelly Island. What's in a name? Apparently, it's a great place to collect sea shells, especially after a storm has hit…so don't forget to bring your bucket!
How to get to Shelly Island
The island is approximately 1 mile in length and is located in the surfing hotspot of Cape Point, but visitors are warned by local officials not to try to swim there as the waters are deep and the currents can be very strong.
Instead, the easiest way to reach Shelly Island is by kayak or paddle-board. There are plenty of places to rent a kayak from in Cape Point. Just make sure you have the appropriate PFD and are aware of the strong currents.
Exploring Cape Hatteras
The National Park Service calls Cape Hatteras "a place to engage your senses." And it's true. This national coastline boasts some pretty stunning beaches (70 miles worth of them!), along with some of the best surfing on the eastern coast of the United States. At night, the skies get so dark, star-gazers come from all over with their telescopes to take a look. Add to that the multitude of wildlife that migrate through here and you've got your vacation sorted. The easiest way to get here is to catch flights to Norfolk, VA. From there, it's about a 3-hour journey south to Cape Hatteras.
Beach Fires
This is also one of the few places you can enjoy a beach fire anytime between 6am and 10pm, so get ready to roast your hotdogs and marshmallows over an open fire once the sun starts to set. Just remember to get your free beach fire permit from the visitor's center before you enter the park.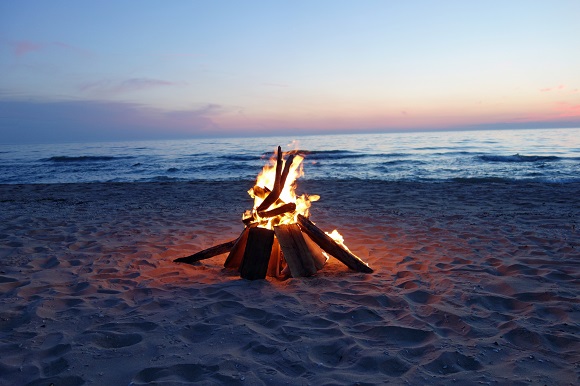 Hiking
Cape Hatteras has three main hiking routes along the National Seashore for you to explore.
Buxton Woods Trail is an easy 3/4 mile loop that takes you through the maritime forest and along some of the highest points on Hatteras Island.
Open Ponds Trail is a 4.5-mile trek one-way (9 miles round-trip) that traverses sand dunes, thickets and forests, from the British Cemetery near Buxton Woods to the Frisco Campground.
And finally the Hammock Hills Trail is another easy 3/4 mile loop walk that starts across from Ocracoke Campground; includes views of Pamlico Sound; and takes you across sand dunes.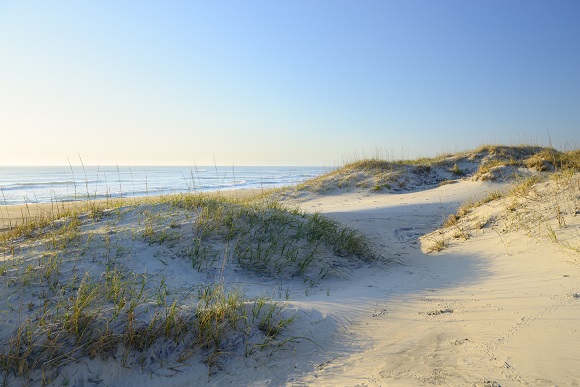 Shelling
Because the island is a favorite spot for migrating marine life, you can find all sorts of different shells here year-round. It's a good idea to bring a shell handbook so you can identify all your finds and remember, don't take any shells that still have animals in them!
Lighthouse Climbs
Cape Hatteras has three historic lighthouses. Both Cape Hatteras Lighthouse and Bodie Island Lighthouse are open seasonally for self-guided climbs, however the third, Ocracoke Island Lighthouse, isn't open to the public. Climbers should be at least 42″ tall and children aged 11 or younger should be accompanied by an adult. All backpacks, coolers and such should be left in your car.
These lighthouses are not for the faint of heart. Cape Hatteras Lighthouse has 257 steps, equal to climbing a 12-story building! Don't worry though, there is a landing every 31 steps. Bodie Island Lighthouse has just over 200 steps (about 10 stories) but the stairs are very narrow. Climb tickets ($8 and $10 each respectively) can be bought on the day at each lighthouse.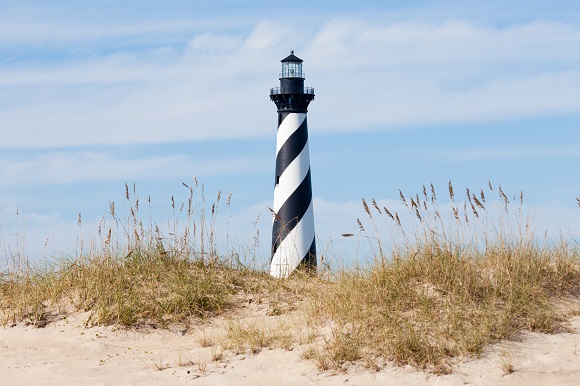 As the coastline is constantly chaining in this area, it's possible Shelly Island could disappear as quickly as it appeared. But until then, visitors and locals alike are enjoying the new beachy island that is a treasure trove of shells! Pack a lunch and enjoy a kayak trip out there; we're sure you won't regret it!
IMG: Shutterstock